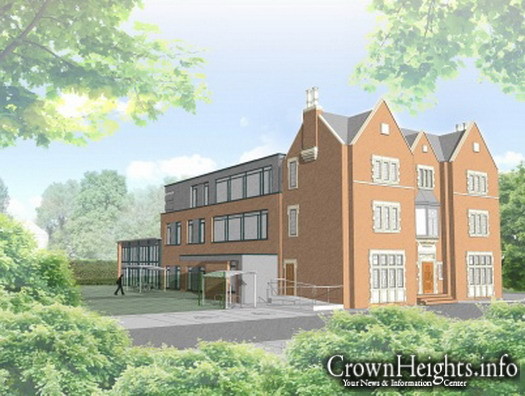 Yeshivas Lubavitch of Manchester has been granted planning permission for the redevelopment of the Beis Menacham School at Park Lane, Broughton Park, to provide a 20,000 sq. ft. yeshiva, school and Shul.
Work on Yeshivas Lubavitch Manchester will start in July, at a cost of more than £600,000.
The site is currently occupied by the OYY Girls School, which will move into its new 10,000 sq. ft. facility on Bury New Road in autumn 2015.
The man behind the building campaign is Manchester businessman Mr. Zalman Klyne, together with his wife Risa. "This is a big change in the Manchester community. It will change the face of our Yeshiva and its students," Mr. Klyne said.
Mr. Klyne also pointed out that green light to begin the building was such a wonderful way to conclude the Yeshiva winter zman, following the unbelievable Purim Mivtzoim, where over 7,000 people across greater Manchester and beyond where inspired by the bochurim. With visitations to Houses, Hospitals, old-age homes, lonely individuals, elderly & infirm,  universities, Small communities and Prisons. Communal Parties and events for children, teens and families were also organized.
"Following the Shmura Matzah distribution where our bochurim delivered over 2,000 boxes of Matzah to Manchester residents, what better time to start building!" he exclaimed.
Euan Kellie Property Solutions advised on the planning application to Salford City Council.
Euan Kellie, director, said: "Gaining planning permission for this important new community facility is the conclusion of a complex but rewarding project with Beis Menacham and the Yeshivas Lubavitch Manchester. The new facilities being created are of international significance."
Designed by Stockport architect Cartwright & Gross, with input from construction consultancy MJ Newton, the new Yeshiva, school and shul will welcome up to 200 students in total.
Gary Scorah of Commercial Properties acted on behalf of Beis Menachem and the Yeshivas Lubavitch Manchester.