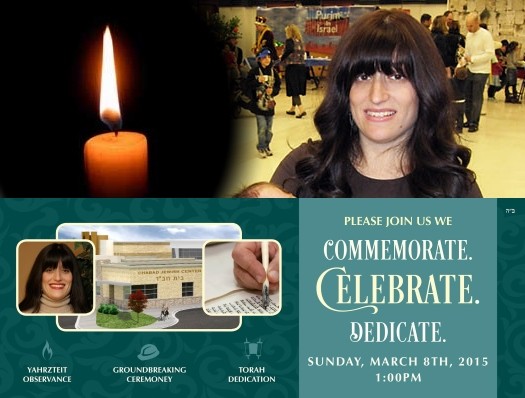 Tomorrow, Sunday, 17 Adar, marks one year since the tragic passing of Mrs. Rashi Minkowitz, a beloved Shlucha, wife and mother of eight. Over the past year, a Sefer Torah was written in her memory; it will be completed and dedicated Sunday afternoon, along with the groundbreaking of 'Rashi's Campus,' at a ceremony marking her first yahrtzeit, which will be streamed live here on CrownHeights.info, beginning at 11:00am.
With her husband, Rabbi Hirshy Minkowicz, Rashi built a vibrant community from the ground up after arriving in the Atlanta area in 1998.
Rabbi Minkowicz, who continues to direct Chabad of North Fulton with the support of the community, flew with his children to New York to be with family, including Rashi's parents, for the yahrzeit.
"There is so much we are experiencing as a family as we observe Rashi's first yahrzeit," Rabbi Minkowicz said. "It is so hard to believe that it has already been a full year.
"But all things considered, I am very grateful to G-d for giving us the strength that we needed to pull through the first year. I am also very grateful for all the family out of town and the wonderful community and friends here in Alpharetta and metro Atlanta. I have no doubt that we wouldn't be where we are today without all of them"
Her family and community have also launched an ambitious project: building an extensive new campus for Chabad of North Fulton dedicated in her memory. According to www.rashiscampus.com, $3 million has been pledged toward the $4 million goal to build the new complex and retire old capital debt.
The capital campaign and the writing of the Torah scroll will come together March 8. The ceremony will include the groundbreaking for Rashi's Campus and the siyum for Rashi's Torah.
The events that day also include a 5K race dubbed Run for Rashi, beginning at 7:30 a.m. at Newton Park, 3150 Old Alabama Road in Alpharetta, GA.
Rabbi Minkowicz and his boys will read from the new Torah regularly. In fact, it will be small enough that all of her boys, including the youngest ones, ages 3 and 5, will be able to perform the gelilah (wrapping after reading).
"This Sefer Torah will eternalize the memory of a shlucha taken from her family and her community," said Rabbi Yossi New of Chabad of Georgia. "A shlucha who inspired a community and, with her passing, inspired the world."
As a result of her death, more than 400 Torah and tea groups — something Rashi was known for hosting and was in the midst of preparing the evening she died — have sprung up throughout Atlanta and around the world, as have many other projects in her memory.
Born in Brooklyn, N.Y., to Rabbi Chaim Meir and Sara Lieberman, Rashi Minkowicz grew up as one of 17 siblings in a home that was open to long- and short-term guests around the clock.
An active leader who inspired many people to become closer to Judaism, Rashi led the community in building a beautiful, state-of-the art mikvah, which she operated with pride and care. She also directed the community's Gan Israel summer day camp and its Hebrew school, as well as planned and executed countless women's events and holiday programs.
While preparing Purim celebrations last year for children and adults, as well as preparing for Torah and tea, the busy mother died suddenly March 11.
"As a rebbetzin and leader of community, you pretty much live in two worlds, your family life and your public life," Rabbi Minkowicz said. "The event Sunday will be the most befitting tribute to everyone Rashi touched and inspired as it includes elements reflecting her life as a mother and a community leader."
The event will take place at Chabad of North Fulton, 10180 Jones Bridge Road, Johns Creek, GA. To donate or get more information, visit www.chabadnf.org, email office@chabadnf.org, or call 770-410-9000.