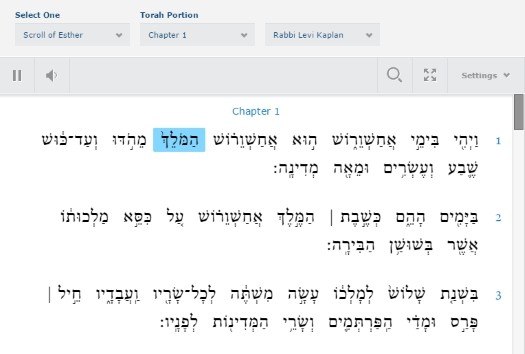 Virtual Megillah Trainer Hits the Web
When 35-year old Jason Grumet was asked to help read the Megillah this year at his 650-member-family synagogue in Southern California, he felt certain that he would be able to master the texts with ease. Like many others, he's preparing for the task using Chabad.org's Megillah Reading Trainer.
The tool assists students by highlighting each word as it is sung, allowing them to go at their own pace. Supported on mobile devices and tablets, it is ideal for those learning while on the move.
One of the four mitzvahs of the Jewish holiday of Purim is to hear the reading of the Megillah, a scroll on which Mordechai and Esther wrote the amazing turn of events that brought about the Purim miracle in Persia in 356 BCE. This year, the holiday begins on the evening of Wednesday, March 4.
The technology behind the Megillah Trainer is the same as Chabad.org's Torah Trainer, which now includes all 54 Torah portions, their Haftarahs, and the blessings recited before and after the readings.
Grumet says he was familiar with the tool since he's been using the Torah Trainer—which he found via a Google search—for some time now.
"It makes the learning process 100 times easier," raves Grumet, who learned to read Hebrew from his grandmother as a child, but took a break of several years as an adult. "I find it very helpful with difficult words and especially with the trope."
In fact, he's already recommended the tool—which he describes as "awesome"—to fellow congregants, including a bar mitzvah boy, whom he feels is well-suited for it due to the comfort young people have these days with technology.
The Megillah Trainer currently includes two reading styles. Rabbi Chaim B. Alevsky, creator of "Tools for Torah" and co-director of Family & Youth Programs at Chabad of the West Side in Manhattan, reads in a lilting voice using the Modern Hebrew intonation. Rabbi Levi Kaplan, director of operations at the Rohr Jewish Learning Institute (JLI) and director of the Council of Chabad Cantors, reads in a traditional, Eastern European manner in his signature baritone.
Since his deep voice and Ashkenazic pronunciation are better matched to Kaplan's, Grumet used that track while preparing the Megillah.
"It's really valuable to have custom options out there for different people," he explains, "and I'm sure that more and more people will begin to use it, and more and more people will be empowered to read the Megillah and Torah as word spreads."