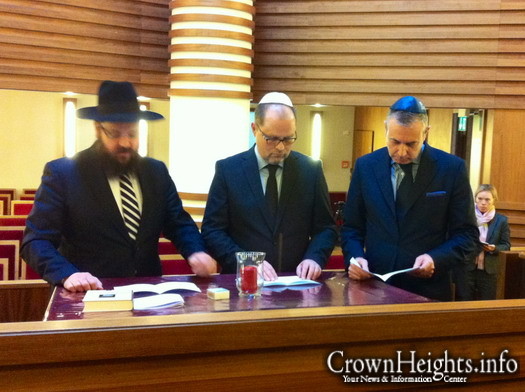 The Director General of the Ministry of Justice of the Government of Germany, Mr. Kristen Lange, visited the Chabad Jewish Center in Berlin. The aim of the visit was to express solidarity with the Jewish community following the recent events in Jewish communities in Europe.
Mr. Lange visited the synagogue, participated in a prayer with the rabbis and lit a candle.
Following the prayer service, Mr.Lange met with the spiritual leader of the Jewish community in Berlin, Rabbi Yehuda Teichtel, together with the Chairman of Keren Hayesod-Germany, attorney Nathan Gelbert. The Director General noted that he came to express that the German government stands together with the Jewish people and will not tolerate any form of anti-Semitism in Germany.
"Today I stand with the Jewish community in Germany. I say loud and clear – whoever attacks Jewish centers or Jewish people – is attacking Germany," said Lange during his visit.
In addition he said, "the Cabinet of the government has now passed a draft of a new law to be submitted to Parliament, that traveling to a terrorist camp with a goal to participate there is against the law in Germany."
Rabbi Yitzhak Lowenthal, of Copenhagen, Denmark, also took part in the conversation over the phone.
The official website of the German Ministry of Justice published information about the visit on it's homepage (see below).
Rabbi Yehuda Teichtel shared: "The solidarity visit is a clear expression of support, which strengthens and encourages the Jewish community in Germany."