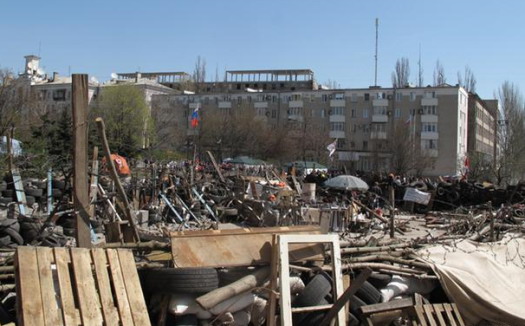 Typical scene on the streets of Donetsk, Ukraine.
The International Fellowship of Christians and Jews pledged $650,000 in emergency funding for Jews in the battle zones of eastern Ukraine. The funding will ensure thousands of food and medicine packages, as well as three months of operating soup kitchens and providing security for Jewish synagogues and institutions in Donetsk, Lugansk and Mariupol.
From the JTA:
Mariupol has about 7,000 Jews living there, according to Rabbi Mendel Cohen, a Chabad emissary who has served as the city's rabbi for the past nine years. But the city has lost 15 percent of its Jewish community following the worsening of fighting in the city in Jan. 24, when Mariupol was struck by dozens of rockets that killed 30 people and wounded over 100.
"The community will remain, but the events of the past few months will have a lasting effect on all the Jewish communities in the fighting zones," Cohen told JTA on Monday. "They are becoming greatly reduced. The people who fled to Israel, many of them will not be coming back. The fellowship's aid is a lifeline for those who stay."