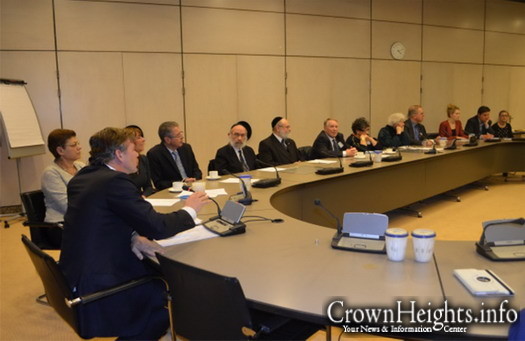 Senior Shliach, a Holocaust Survivor, Addresses Dutch Parliament
Marking International Holocaust Memorial Day, a special ceremony took place in the Dutch Parliament.
The highlight of the event was an emotional address by the senior Shliach to the Netherlands, Rabbi M. Y. Vorst. Also in attendance was Chief Rabbi  B. Jacobs and Ambassador Haim Divon of Israel.
Rabbi Vorst recalled his personal memories of those horrible days. There wasn't a dry eye in the room when Rabbi Vorst shared the image that is constantly before his eyes, sitting on the notorious Treubitz train that roamed thru Germany for weeks at the end of the war, trying to dodge the advancing Allied armies. It was during this hideous train ride that Rabbi Vorst lost his mother.
Rabbi Vorst also recalled an incident which he did not recall on his own, but was recorded by Jewish author Clara Asscher-Pinkhof. She tells a story two teachers doing their work in the Westerbork Transit Camp:
Suddenly a little five year old strolls into the classroom, oblivious to the lesson that was going on, the child continued singing. He was singing "Ashrenu, mah tov chelkenu – How fortunate we are. How beautiful is our part." The teacher is so touched, she cannot continue teaching. She walks over to the child, lifts him in her hands and motions to the other teacher to join her in leading all the children outside to the yard. They all follow the example set by the little boy and sing. They sing and sing, all the time the same song; "Ashrenu – they are so happy and that their fate is so good!"
"Clara Asscher-Pinkhof knew this story first hand, she was one the teachers. The other teacher was my father. And that little oblivious five year old boy, is sitting before you today… Still singing Ashrenu and still encouraging people of all ages to sing Ashrenu!" he said.
Chief Rabbi Jacobs, a pupil of Rabbi Vorst, spoke about the rising anti-Semitism and called for compulsory Holocaust education in all Dutch schools. He mentioned that the current commemoration comes at a time when we unfortunately were reminded how relevant the issue is. Rabbi Jacobs exhibited a receipt of 37.50 guilders that a 'brave Dutchman' received from the German authorities as a payment for betraying five Jews (see below). "Will this receipt reflect in current reality?" he wondered.
Representatives of all political parties attended the ceremony. A petition, sighed by 18,000 Dutch citizens, condemning the recent anti-Semitic incidents was presented by delegates of Christians for Israel.