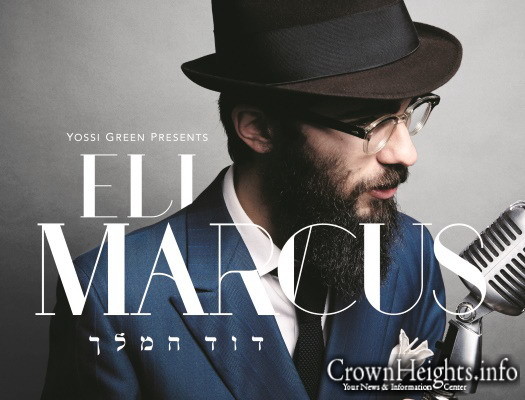 The long awaited debut album from Eli Marcus, the youngest member of the musically gifted Marcus family, is finally being released.
The album, entitled Dovid Hamelech, features the compositions of Yossi Green, with contributions from Yitzy Waldner and Elie Schwab. On board for the arrangements is world renowned musical director and producer, Shai Bachar.
Marcus' name is familiar to many within the Jewish music scene. An in demand wedding singer and performer, Eli has been working on the wedding scene for over six years.
On his new album, Marcus offers a vibrant spin on classical Jewish music, imbuing the songs with his innate creativity and his unique sense of style.
"He has a youthful, fresh energetic sound as well as a classy mature side to him," added Avraham Fried, who describes himself as a proud uncle. "You get the impression that Eli is a seasoned performer when really this is only his first CD."
Every composition on David Hamelech was hand-picked. "This project is literally a dream come true," said Marcus. "The opportunity to work with Yossi Green, a major childhood musical influence and hero, is just unbelievable beyond words."
The album has a unique feel thanks to the production, done by Eli and Bachar. "This album was made with musicians who are like a family and have been working together for 15 years" Said Bachar.
"Eli's vast musical talents are astounding," said brother Bentzy Marcus of 8th Day. "He can play, sing, compose, arrange, all with an amazing sense of style and 'hartz.' It's a real gift to Jewish music fans to have an artist like this come on to the scene."
Cousin Benny Friedman admits to being very excited for Marcus' album debut. "Eli is that perfect blend of high energy, great musical talent and superb vocal chops," said Friedman. "He's the real deal and he is getting ready to blow your socks off!"
David Hamelech is distributed by Aderet and is due out next week. Look for it wherever Jewish music is sold or online at www.MostlyMusic.com.