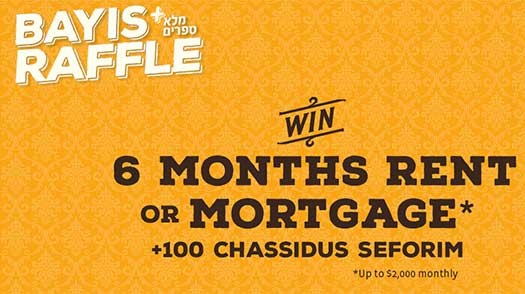 Support the Spreading of Chassidus – Chance to Win Prizes! (ad)
How does winning six months of rent or mortgage payments, along with 100 seforim sound? Purchasing tickets in the Bayis Raffle will give you a chance to! All while supporting the publication and spreading of Chassidus. The raffle drawing will take place today, Thursday evening! Click Here to purchase Tickets!
Winner of the raffle is Yosef Yitzchok Kalmenson
Surely you have seen publications such as the Daily Lightpoints, which can be found in Shuls and your email inbox, but it is not the only publication which comes from Or HaChassidus.
One of their most popular publications is Likras Shabbos, a publication which is spread in non-Lubavitch Shuls around the world, which spreads the Rebbe's Torah to the masses. They also published several seforim, including: Darchei Hachasidus, Otzrois Hahagaddah and Menoras Kodesh.
A Bayis Raffle
In order to fund these vital publications, Or HaChassidus relies on sponsorships and donations. Organizers have now launched a Bayis [home] Raffle, which will literally help a lucky winner with their 'home' – a grand prize of 6 months' rent or mortgage payments, as well as 100 seforim to fill your home with.
Tickets can be purchased online at BayisRaffle.com until this evening, when the drawing will take place. They cost $36 for one entry or $100 for 5 entries.
Or Hachasidus is under the auspices of Merkos Linyonei Chinuch and is a CrownHeights.info advertiser