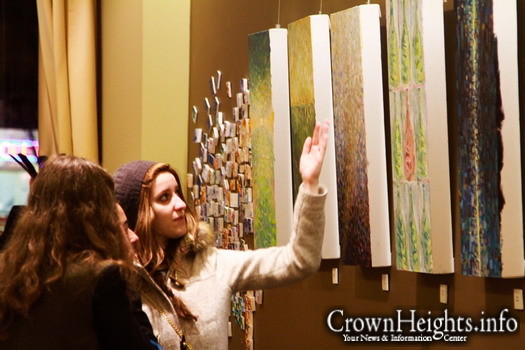 Illustration photo: A former art exhibit at The Creative Soul.
Art Exhibit a Celebration of Baal Teshuva Experience
What imagery might be conjured in one's mind when contemplating the road traveled by a secular Jew on his or her way to a future life of Torah observance? If this Jew is a painter, a musician, a poet, a dancer or any other soul of artistic persuasion, what scenery, symphony or passionately penned lyrics could we expect to emerge from the depths of such an endeavor upon arrival?
Possibilities are endless such as the searing pain of struggle, cleansing tears of joy in a new community, wistful memories of a life almost lost – the warmth of Torah's loving voice whispering, "Welcome home."
The Creative Soul has announced a celebration and tribute to these artists, Jewish men and women who have chosen to embrace a Torah observant life. They will share their journeys, their decisions and reasons for turning away from the secular world, through their G-d given talent for making art.
Being an artist is something that is part and parcel of an individual; so is being a Jew.
The Art show is curated by Rivkah Siegel and Raiza Malka Hartz – both Baalei Teshuvah and artists.
To submit artwork for the show, please visit http://thecreativesoul.org/?p=1694
The Lubavitch Rebbe, Rabbi Menachem Mendel Schneerson, had profound insight into this world. His words of encouragement should bring harmony to us all. "As you are surely aware," he wrote in a piece titled Letter to a Depressed Artist, "the primary talent of an artist is his ability to step away from the externalities of the thing and, disregarding its outer form, gaze into its innerness and perceive its essence, and to be able to convey this in his painting. Thus the object is revealed as it has never before been seen, since its inner content was obscured by secondary things. The artist exposes the essence of the thing he portrays, causing the one who looks at the painting to perceive it in another, truer light, and to realize that his prior perception was deficient."
The Baalei Teshuva represent more than a thought provoking choice and journey; they are spiritual athletes who give us all, no matter where we are in life, hope, faith and a more beautiful world to hold us close on our own expeditions.
This celebratory event is for the diverse people who took this life-changing journey. The evening will be a creative celebration with music and poetry readings – all performed by Baalei Teshuva. The current lineup includes Mathue Roth, Elad Nehroai, members of the Hevria collective and many others. Refreshments and much more will be included in this heartfelt exhibition.
The event is free and open to the public. It will take place on Thursday, January 29, 2015 at 8:30pm. Location: Creative Soul Gallery 386 Kingston Ave. in Crown Heights, Brooklyn.
Contact: Yitzchok Moully at Welcome@TheCreativeSoul.org. www.TheCreativeSoul.org.