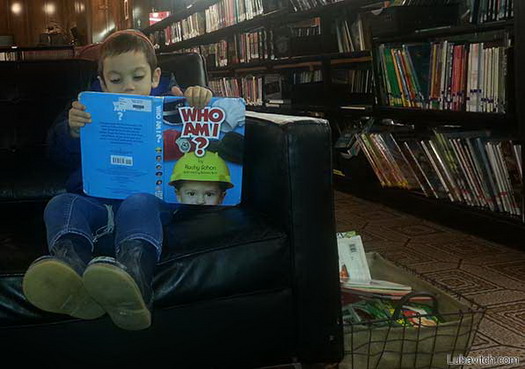 First opened in the early 1970's, the Levi Yitzchok Library fell into disrepair after its longtime director passed away almost two decades ago. Today, the Brooklyn library is humming once again with activity as readers of all ages find good reason to visit.
"It was upsetting to see the library not being used, neglected and in disarray. The upkeep of a library needs dedication and for many years there were dedicated librarians devoted to its upkeep," says Rabbi Shlomo Friedman, administrator of Lubavitch Youth Organization. "But it was a daunting task and needed dedicated directors."
The library's future began to turn when Rivky Katz, together with her husband Rabbi Yoni Katz, began utilizing space in the library for group discussions. "When we were there, we began asking ourselves: 'Do people come to the library? Do people take out books? Why isn't this place alive?'" With that, the couple decided spruce up the library and bring it back to life.
Named for the scholar and Kabbalist, Rabbi Levi Yitzchok Schneerson, the library was inspired by his son, Lubavitcher Rebbe, Rabbi Menachem Mendel Schneerson, who urged the opening of Jewish libraries. Rabbi Dovid Raskin, the late director of Lubavitch Youth Organization, the library was opened under its auspices with the idea that it would as well be a place where people could engage in meaningful conversations about Judaism.
Shortly after its opening, the Rebbe donated his personal set of the Talmud to be used at the library. For many years the library served as a vibrant hub for young children, scholars and visitors to the community. After a period of decline, the library now offers readers and borrowers an updated catalog with thousands of new books. A reference library filled with scholarly tomes is available for students and scholars. As well, the space has been reconfigured, "making it more open, more available for classes and more people," Katz says.
At a time when most people do their reading and research online, Rivky sees this as an antidote: "The Rebbe wanted to create a place where people interact with one another, not just a warehouse or a website that holds books.
"This is a place to borrow a book and then talk about it with others."