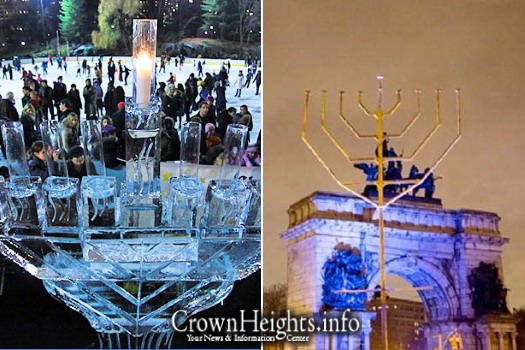 In NewYork.com's list of the top 15 events you won't want to miss in New York City this December, Chabad events take up two spots: The large Menorah lighting in Grand Army Plaza at #10, and Chanukah on Ice in Central Park at #13.
In its description for what it calls the "world's largest Menorah lighting" at Grand Army Plaza on December 23, the author writes: "Go big when you celebrate the last night of Chanukah 2014 at this, the final lighting of a 4,000-pound, 32-foot menorah — the maximum size allowed under Jewish law. Bid a fond farewell to this year's festival of light with an outdoor party featuring live music, gifts for the kiddies and latkes all around."
For Chanukah on Ice at Wollman Rink on December 16, the author writes: Kick off the festival of lights on ice at this Chanukah skating party hosted by the Chabad Centers of New York at Central Park's Wollman Rink. After you marvel at the lighting of a giant ice menorah, enjoy traditional tunes from the Ta Shma Orchestra and sample kosher fare in between your laps around the rink.
The events are listed in chronological order. Click here to see the full list at NewYork.com.