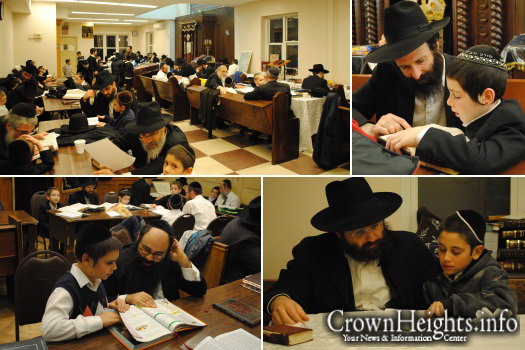 Over 400 fathers and sons attended the first week of the Avos Ubanim Betzalel learning program, which took place this past Motzoei Shabbos in Crown Heights.
The excitement on the faces of the children, as well as on the faces of their fathers, was contagious.  "It was heartwarming to witness the bonding of the boys with their fathers as they spent quality time together. Incentives and prizes galore, with inspiring divrei chizuk, topped off this wonderful Motzei Shabbos experience," the organizers said.
Avos Ubanim now boasts seven locations throughout the shchuna: Frankel's Shul – 1619 President St., Aguda Shul – 456 Crown St., Eliyohu Nocham – 672 Lefferts St., Cong. 935-Chabad – 935 Eastern Parkway, Empire Shteible – 489 Empire Blvd., 770 Eastern Parkway in the basement and Heichel Halimud Anshei Moshe – 1334 Lincoln Place between Schenectady and Utica Aves.
The Avos Ubanim program is known as 'Avos Ubanim Betzalel' in loving memory of Reb Betzalel Jacobson, OBM, dedicated by his son Yerachmiel Jacobson.  This week's learning was graciously sponsored by Aron and Maritt Hershkop.
To sponsor a program, please contact Rabbi Z. Sorkin at 978-384-0770.