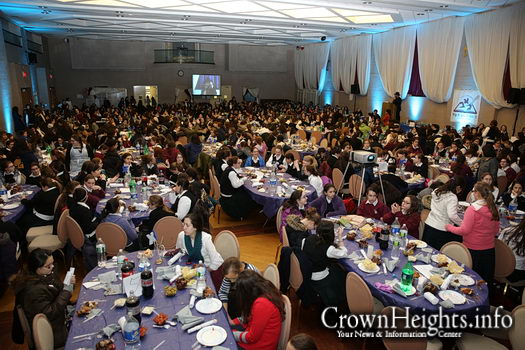 File photo: Last year's convention.
Preparations for the Chabad girls Inter-High School Convention are well underway.
Last year, over eight hundred Lubavitch high school students from fourteen schools in the USA and Canada joined for the Inter-School Convention. The incredibly packed weekend left participants with inspiration and memories to last a lifetime.
This year's convention will begin Thursday, Chof Daled Teves, January 15, and run through Sunday, Chof Zayin Teves, January 18. It will be four jam-packed days of amazing farbrengens, sought after speakers, presentations from the participating schools, entertainment, and incredible exhibits produced by the Bais Rivkah girls. The event will culminate in a grand banquet Sunday afternoon.
New for this year: registration will be online via the Bais Rivkah website, www.BethRivkah.edu. The registration link will be provided as the convention date nears.
Any Chabad high school-aged girl who wishes to join is welcome. For more information, the convention organizers can be reached at Hsconvention@gmail.com.