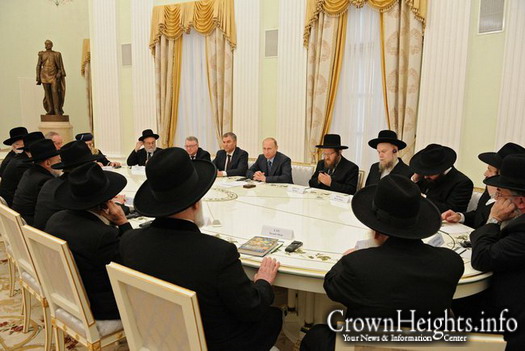 Israel's Sephardic Chief Rabbi Yitzchak Yosef and former Chief Rabbi Yisroel Meir Lau met with Russian President Vladimir Putin and Russia's Chief Rabbi Berel Lazar in Moscow today, Wednesday. The Rabbis attended a special ceremony marking the anniversary of the release of the Frierdiker Rebbe, Rabbi Yosef Yitzchak Schneersohn, from Soviet prison.
The rabbis were joined Alexander Boroda, president of the Federation of Jewish Communities of Russia, as well as a delegation of Rabbis from the Brussels-based Rabbinical Center of Europe.
From VIN News:
Putin discussed the fight of Jewish people during WWII and the struggle that still exists today regarding anti-Semitism. He recalled his visit to Yad Vashem in Israel – a Holocaust museum – and also mentioned the Museum of Tolerance in Moscow.
Putin relayed to the delegation that he intends to never forget and cherish the memories of those lost during the Holocaust, and prevent the recurrence of such a tragedy.