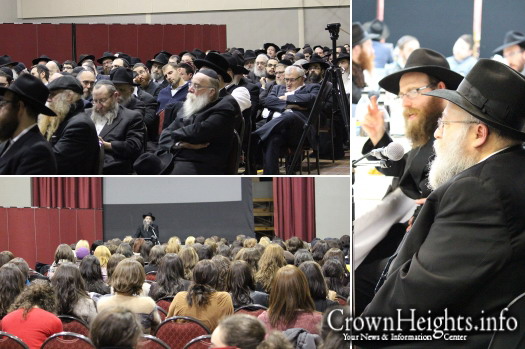 Gimmel Tammuz Commemorated in Melbourne
The Yeshivah Centre of Melbourne, Australia hosted an event marking the twentieth anniversary of Gimmel Tammuz.
The community-wide event, which was held at the Werdiger Family Hall, assumed an especially somber tone, coming on the heels of a memorial event commemorating the brutal murders of Eyal Yifrach, Naftali Frenkel and Gilad Shaar HY"D.
Throughout his leadership, the Rebbe showed unique care and concern for the Australian Jewish community, and was directly involvement in fostering the growth of Yiddishkeit in Melbourne. The Rebbe and his Shluchim played – and continues to play – a major role in shaping the face of the Jewish Community in Melbourne. Appropriately, the tribute evening was themed "The Rebbe's Impact on Melbourne", and boasted a panel of local and international speakers.
Rabbi Mendy Groner (Chabad of Glen Eira) drove home the point that the melancholy emotions engendered by Golus and our physical separation from the Rebbe must be channeled into positive energy, with an especially renewed focus on the topic of Moshiach.
Mr. Yossi Aron (Religious affairs editor for the Australian Jewish News) spoke of Chabad's profound influence on Melbourne's embryonic Jewish community so many decades ago. Mr. Aron drew attention to a trilogy of successive dates; 3 Tammuz – the Yahrtzeit of Reb Zalman Serbryanski, who was instrumental in founding Yeshivah College and Yeshivah Gedolah; 4 Tammuz – the Yahrtzeit of Rabbi Yitzchok Dovid Groner; and 5 Tammuz – the date when Yeshivah College opened its doors for studies back in 1955.
Rabbi Motty Liberow (Hamerkaz Shelanu) masterfully and eloquently articulated a number of insights and lessons for Gimmel Tammuz, both for the older generation who merited seeing the Rebbe first-hand, as well as for the younger generation who did not.
Rabbi Heschel Greenberg (Buffalo N.Y.) drew a parallel between the current situation in which we find ourselves and the two-year period in which he served as a Shliach in Melbourne (1971-1973); physically distant, yet spiritually close.
The event concluded with a special 25 minute video presentation of the Rebbe prepared by Jewish Educational Media in collaboration with Chabad.org's Jewish.tv.
The event was followed by a Chassidishe Farbrengen, led by Rabbi Greenberg, which continued into the wee hours of the morning.