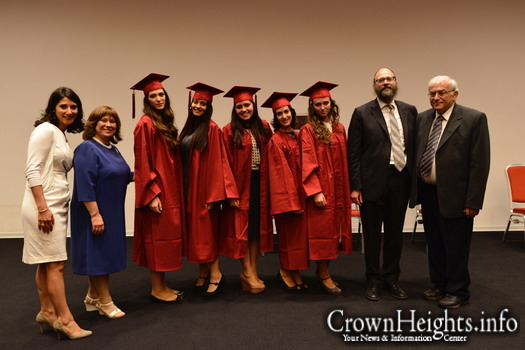 Chabad Students in Italy Receive Israeli Diplomas
On Thursday, June 26, Merkos l'Inyonei Chinuch of Italy, the educational branch of Chabad in the southern European country, celebrated its first bagrut graduation ceremony in Milan.
The agreement between the Israeli Ministry of Education and Merkos to formally recognize the Bagrut project in Italy was made in April in Jerusalem between Education Minister Rav Shai Piron and Merkos' delegation headed by Rabbi Avraham Hazan.
Last week's graduation ceremony was attended by many representatives of the Italian Jewish community and by local authorities.
Mr. Renzo Gattegna, President of UCEI (the Italian Union of the Jewish Communities), expressed his encouragement to the girls for their future and to the whole project.
Mr. Moshe de Calo, director of the examination department of the Israeli Ministry of Education, underlined his appreciation for Merkos' courage in undertaking this important project, which will enable students in the Diaspora to obtain – for the first time ever – the bagrut diploma outside of Israel.
As per tradition, the smiling girls celebrated this important moment tossing their mortar boards in the air, with shouts of Mazal Tov!
The Bagrut diploma
The 4-year bagrut curriculum stands out for its feasibility yet excellence of the studies, which can be tailored by students according to their own needs and interests. The curriculum puts special emphasis on math and English, for which Israeli Schools are known to excel and which are pertinent to future academic success.
​