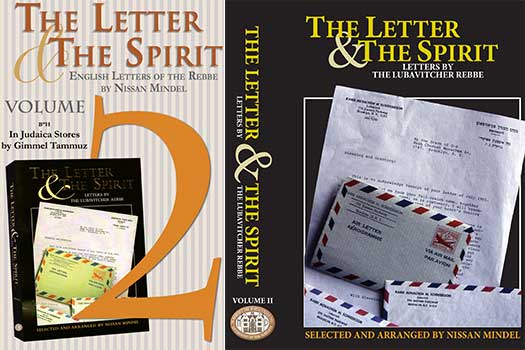 15 Years Later, Vol. 2 of Letters and the Spirit Published
Now available for the first time is the second volume of the popular Letters and the Spirit book, which was first published some 15 years ago.
Rabbi Dr. Nissan Mindel , personal secretary of the Rebbe for over four decades and responsible for his correspondence, describes in fascinating detail in his comprehensive introduction to this multi-volume compendium, the process by which the Rebbe's letters were written.
The thousands of letters of the Rebbe, a copy of which was entrusted to Rabbi Mindel, were carefully preserved and categorized, some of which were then chosen and prepared for publication, with permission from the Rebbe.
This project, particularly dear to his heart, Rabbi Mindel did so that the holy wisdom contained in the letters would continue to guide and comfort countless others. He selected the letters with care and maintained his high standards of strict confidentiality by removing any clue that might compromise the identity of the person to whom the letter was written.
Rabbi Mindel organized these letters into numerous topics and wrote an introduction to each section, highlighting the particular subject of the section. These topics cover a broad range of interests, questions and situations, matters of great importance to the reader.
Volume One of the Letter and the Spirit was published in 1998 and contains five sections: The Perplexed,    Concepts,  The Holy Land,  The Family and Lubavitch Derech. These will be continued in future volumes, in addition to new topics.
Volume Two – which is now available – contains the new topics of Torah and Science, Miscellaneous and more of The Perplexed.
Volume Three – which will follow in the next few months – will include the new topics of Halachah/Jewish Law, Education, Nichum Aveilim/Comforting the Berieved  as well as more of Family and Concepts.
The publishers expressed their desire to publish more volumes in the future with new topics, as well as more of the previous topics.
Letters and the Spirit –  Volume II is now available at local Judaica stores and online at NissanMindelPublications.com. For more info, or to order in bulk email nmpublications@gmail.com