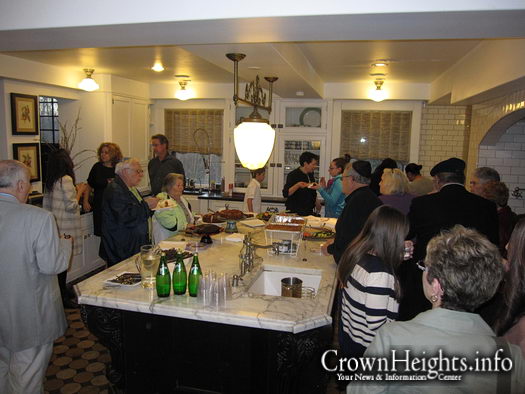 On a recent spring evening, men and woman from throughout Orange County filled the home Dr. Seth & Nadine Pulver in Highland Mills for "Recipes Remembered" with Author June Hersh, hosted by Chabad of Orange County.
Hersh authored "Recipes Remembered: A Celebration of Survival," a book that tells the remarkable stories of Holocaust survivors from all over Europe, and shares their recipes and rich history with the current generation.  Hersh lovingly assembled this book for the Museum of Jewish Heritage in New York: A Living Memorial to the Holocaust.
Guests at the event sampled delicious recipes from the featured cookbook prepared by Chana Burston, co-director of Chabad. Afterward, Chana offered meaningful insight into translating the pain of the Holocaust into positive actions. "The fact that we exist," said Chana, "and every mitzvah we do – any Jewish tradition we practice – is the ultimate revenge on evil Hitler." Chana also added that the Burston family feels a special connection to the evening because all four of Rabbi Pesach's grandparents survived the war.
The audience then listened to author June Hersh as she shared the history of the cookbook project, and many remarkable stories which are documented in it and how it came about.
Hersh explained that several years ago she and her sister sold their families successful lighting company. Her sister turned to her and said, "We did well, not let's do good." June is a fabulous cook and has always been an avid believer and supporter of holocaust education and museums, and thus partnered with the Museum of Jewish Heritage in NYC to create a unique cookbook which fully benefits the museum.
"Eat Well, Do Good" is June's motto. June interviewed close to 100 survivors, and spent over a year documenting their inspiring stories of miraculous survival, and testing their recipes until they reached perfection. The cookbook features a unique array of delicious recipes, and each one tells the story of the survivor. The immigrant experiences in places like Cuba as well as the United States are also described, and indeed influence the food.
"Their stories are universal," Hersh explains, "proving the power of faith, luck, resilience and strength. Their recipes represent the best in cooking from nearly every corner of the globe. Not just Jewish food, but the traditional dishes that nourished and nurtured generations of Americans for decades."  Hersh goes on to explains that "food represents identity for these people who did not have a real homeland."
"It was an exciting experience to try these recipes," says Chana. "I felt as though I was bringing the rich aromas and tastes of the Jewish European homes before the war destroyed so many Jewish homes – into my home – a powerful experience."
"I thoroughly enjoyed the evening," Loren Chwan of Warwick later wrote in an email to Chabad.  "June was very informative about the survivors, and their experiences." About the recipes Loren said, "I couldn't wait to try some of the recipes after I bought my cookbook. The recipes I made were all delicious and easy to prepare.  It was a wonderful evening to be able to hear about the commonality of food that we share, and bring back childhood memories of food that my mother and grandmother prepared."
The event was made possible thanks to the generous support of Dr. Seth & Nadine Pulver, James Rogers, Mitch & Gladys Wenzel, Gil & Phyllis Goetz and June Hersh.
The book "Recipes Remembered" is available for purchase at Chabad for $36 for a limited time. To purchase contact Chabad at 845-782-2770 or Chana@ChabadOrange.com