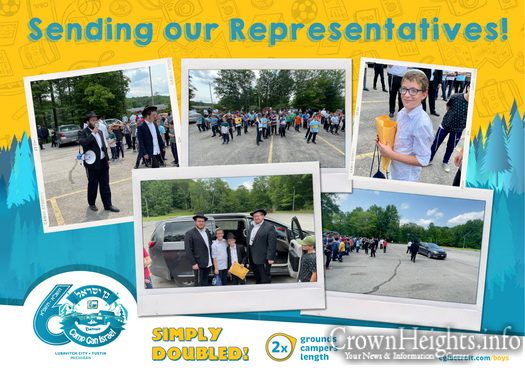 Detroit Campers Win Trip to the Rebbe for Chof Av
by Ashira Weiss
Two lucky CGI Detroit campers travelled to New York today in honor of Chof Av. Schneur Zalman Backan and Shea Shmotkin were the winners of a raffle held at camp and represented the boys' division by the Rebbe today.
As the boys left camp, all campers and staff joined them in the parking lot, dancing and singing niggunim as they waved them off. The 'Chosidel Raffle,' that the boys won was a culmination of a weekly mivtzah, where the boys were given missions to help develop chasidishe hanhogos and yiras shomayim. Each bunk's top performers were entered into the Chosidel Raffle to represent CGI Detroit on a trip to the Rebbe. The raffle was drawn two days ago and yesterday Schneur Zalman and Shea traveled to the Ohel.
After the camp waved their representatives off they participated in special activities for Chof Av, the highlight of which was a Chosidel Rally with a twist. This year, for the first time, CGI Detroit boys' division ran two sessions over both months of the summer, at their newly leased campsite in Tustin, Michigan. The Chof Av rally was opened to boys from both sessions, even those who left camp after the first session ended. There was great excitement and a feeling of achdus as the boys joined their friends at camp via Zoom, singing nigunim, watching the sicha and saying the Torah Pesukim.
"Campers always came to spend Chof Av with the Rebbe. It is so special that we have the opportunity to send representatives this year," says Head Counselor Levi Katz. "We are happy that they are able to report nachas to the Rebbe about all the missions they have participated in through the Chosidel mivtzah." The boys brought with them hundreds of panim from campers and staff of CGI Detroit.