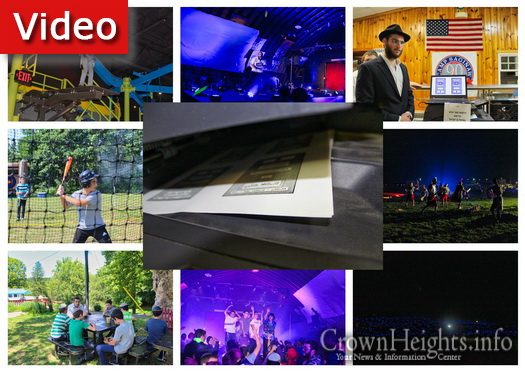 In honor of Chof Av, the boys of main camp took part of printing a Tanya. Monday night campers enjoyed a lesson-packed staff play. All 850 campers of all divisions each received their own wireless headsets to be able to hear the play in optimal quality. The play told a story from Tanach, the story of Bar Kochva.
Throughout the week campers enjoyed a wide range of day and night activities, such as food race games, talent night, batting cages and more.
The week included a live concert featuring Chony Mileki and Boruch Sholom Blesofsky.
On Wednesday, the CGI division of camp enjoyed trips. 4th grade went to "Main Event" where they enjoyed arcade games, go-karting, laser tag and more. 5th grade enjoyed paintball shooting. 6th grade took it to the water where they enjoyed a white water rafting trip. Groups of six campers with the help of staff pushed their way through nine miles of white water.
On Thursday, 7th and 8th grade divisions enjoyed a white water rafting trip while Mesivta enjoyed an intense paintball shooting trip. The week ended off with the usual inspiring Shabbos experience, and welcoming the final week of camp.