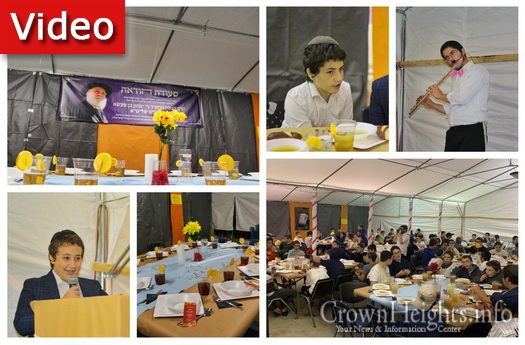 This past 15 of Av –YKK – Gan Yisroel held a special fleishig meal– as a Seudah Ho'oda in merit of HaRav HaGaon, R' Yitzchok Raitport, Shlita. HaRav Raitport is recovering from a recent bout with Covid 19 that affected him in a most serious manner.
During the seuda, held for the 7th grade division, HaRav Raitport's grandson Zevi Raitport spoke about Emunas Hashem and connected it with the Mitzvah Mezuuza and the Rambam.
Head Counselor Yossi Rapoport explained to the campers the importance of a seudas ho'oda and the meaning that it carries. He continued wishing Rabbi Raitport and the whole klal Yisroel only good health and simchas!
YKK –Gan Yisroal was opened this year through the Hanhola of Oholei Torah to answer the great need to provide a safe and productive summer experience for 600 children from Crown Heights, who have been quarantined close to 3 months, while the school buildings were closed.
Before the summer, HaRav and Rebbetzin Raitport generously gave support to the opening of the camp, allowing the maximum amount of children to be part of this most needed summer overnight camp.
HaRav Raitport said "I am proud to associate with Oholei Torah, a mossad that first and foremost puts the needs of the precious kinderlach above all other considerations"
Rabbi Joseph Rosenfeld, Executive Director of Oholei Torah thanked HaRav and Rebbetzin Raitport for their ongoing support, and in particular for their assistance with the opening of this summer camp.