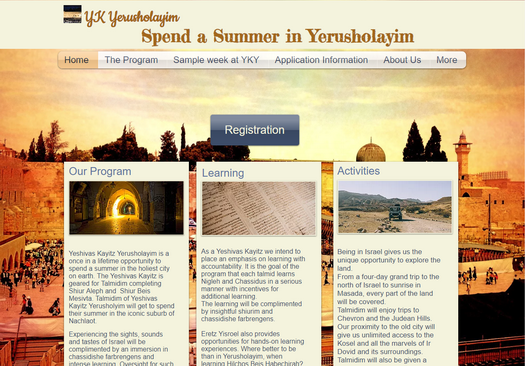 "There are few more exhilarating feelings than touching down in Eretz Yisroel knowing that you have a trip to the Holy Land ahead of you. It is the same exhilarating feeling when you enter Yerusholayim and see the Kosel for the first time on a trip. All of these feelings and so much more lies in store for talmidim of a brand new Yeshivas Kayitz, located in the heart of Yerusholayim. This once in a lifetime opportunity to spend a summer in the only American program Yeshivas Kayitz to be hosted in the holiest city in the world.
Yeshivas Kayitz Yerusholayim was formed In order to fill an increasing demand for Yeshivas Kayitz places for bochurim coming out of Shiur Aleph and Shiur Beis mesivta. Hanhola of the new Yeshivas Kayitz felt that the beauty of all that Yerusholayim and Israel has to offer would be the perfect setting for a Yeshivas Kayitz that would be driven by serious learning and a plethora of incredible trips. Learning that includes interesting sugyos in nigleh and chassidus, and trips such as 4 days in the North of Israel and sunrise hikes up Masada's snake path with much more in between. This is of course coupled with the incredible sights, sounds and tastes that Yerusholayim has to offer.
Located in the heart of Nachlaot, the Yeshivas Kayitz gives incredible access to the Kosel, Old City and Geulah that are all within a walking distance. Hanhola of the Yeshivas Kayitz aim to provide personal care and attention to the gashmius and ruchnius of each one of the Yeshivas Kayitz Talmidim.
The Yeshivas Kayitz is under the able leadership of Rabbi Shmuli Schneerson and Rabbi Yosef Avtzon.
Rabbi Avtzon is a native Israeli who is currently teaching in Yeshivas Ohr Elchonon Chabad in Los Angeles. Rabbi Avtzon has education experience with bochurim as well as running a Yeshivas Kayitz in the Congo.
Rabbi Avtzon will be assisted by Rabbi Shmuel Schneerson of Los Angeles. Rabbi Schneerson has been involved with mentoring bochurim for many years. Aside from his smicha from Machon L'Horah in Melbourne, Australia, Rabbi Schneerson holds a Masters degree in Marriage and Family Therapy. Rabbi Schneerson brings all of his experience and education to provide a holistic approach to ensuring a highly uplifting and entertaining summer experience.
Limited spaces are available in order to ensure a high-quality summer experience for all attending Talmidim.
For more information and to register, please go to ykysummer.com