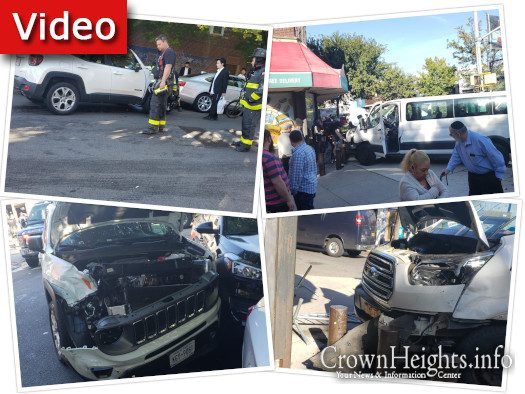 by CrownHeights.info
A two car crash temporarily shut down Crown St and Kingston Ave Monday afternoon, with one person reported as being seriously injured.
According to surveillance footage from the scene, a white van, allegedly owned by Hamaspik, was driving down Crown Street and attempted to get through a yellow light, missing it by a second and crossing on red.
A White Jeep being driven by a yungerman was coming up Kingston Ave and entered the intersection just as the light was turning green.
The two cars collided, sending the van onto the sidewalk and mounting the metal barriers outside Apple Drugs. The van came to rest on the barriers, missing the store and other pedestrians by inches. The white Jeep came to rest against a parked car on Crown Street.
Fire and EMS rushed to the scene, finding the driver of the van to have had serious injuries. He was transported by EMS to a local hospital.