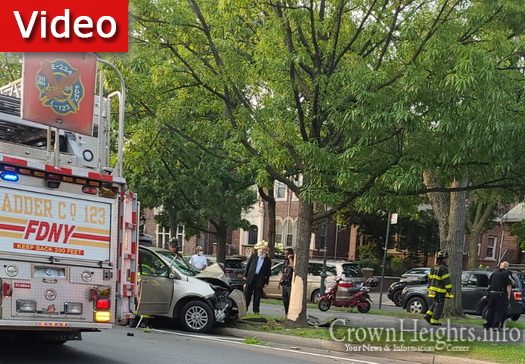 Eastern Parkway Crash Involving A Minvan Into A Tree Causes Injuries
by CrownHeights.info
A minivan crashed nose first into a tree on Eastern Parkway Wednesday morning, injuring two people.
The crash took place on Eastern Parkway between Brooklyn Ave and Kingston Ave before 8:00am when the minivan inexplicably crossed all three opposing lanes and crashed nose first into a tree.
The impact of the crash was strong enough that the minivan jumped the curb and did significant damage to the cars front end. The tree also looked the worse for wear.
The NYPD and fire department responded to the crash, and EMS was on scene to treat two injured occupants of the car.
Witnesses of the crash noted that the car was smoking, forcing the fire department to tear off the cars deformed hood to keep the car from catching fire.
Traffic continued to flow along Eastern Parkway without delay throughout the incident.