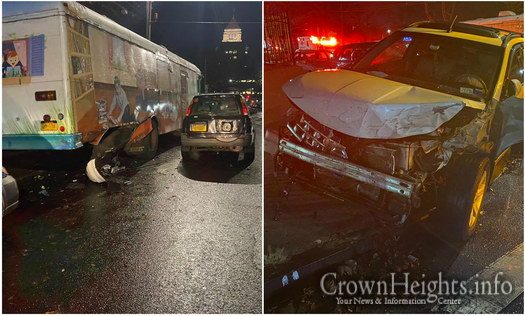 by CrownHeights.info
Crown Heights's iconic library bus was damaged Monday night after a two-car crash sent one vehicle careening into the back of the bus.
"It was a strong impact," Naftali Sirota told CrownHeights.info. Sirota is the driver of the Crown Heights Library bus.
The bus had been parked on Brooklyn Ave near the turn onto Fenimore Street Monday night when the two SUV's collided, sending one of them into the back corner of the bus so hard it moved the bus onto the curb, according to Sirota.
The collision ripped off the bottom siding of the bus and caused damage to the undercarriage. The two SUV's were also significantly damaged.
Sirota told CrownHeights.info that he has received an outpouring of support, including from Crown Heights activist Geoffrey Davis, who had previously donated his book titled "Love Yourself Love Each Other" to the library.