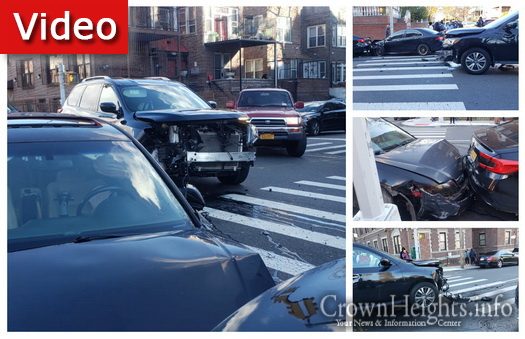 by CrownHeights.info
A two car crash in Crown Heights Tuesday morning caused by a drag racing duo snarled traffic, but thankfully did not cause serious injuries.
The crash took place at the intersection of Crown Street and Schenectady Ave at approximately 9:30am, after a black and silver sedan took a red light, and the black sedan hit an SUV.
According to witnesses, the silver sedan then raced away with the driver of the black car, fleeing the scene.
Hatzalah and 911 were called to the scene, where they treated the Jewish occupant of the SUV for only minor injures.
The cars themselves sustained significant damage, with the SUV having lost it's front bumper and the black sedan having coming to rest against a parked car.
Car Crash @CitizenApp

712 Crown St 9:47:18 AM EST