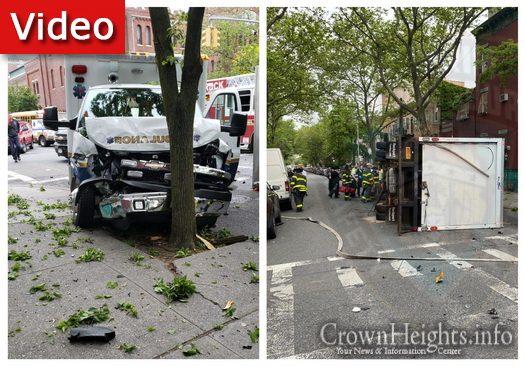 by CrownHeights.info
A major crash involving a white box truck and a Hatzalah ambulance thankfully left no serious injuries Thursday morning.
The crash took place near the intersection of Heyward Street and Marcy Ave in Williamsburg.
Hatzalah and other Emergency responders rushed to the scene as initial reports claimed that the driver were stuck inside the truck, and another person was trapped inside the ambulance.
Upon arrival, they found the box truck on its side, and the ambulance heavily damaged after having hit a tree.
Two people were extricated from the truck, according to a report on citizen, and all people on the ambulance had exited safely.
Exactly how the accident occurred has not yet been announced
Ultimately three injuries, all minor, were reported in the crash.