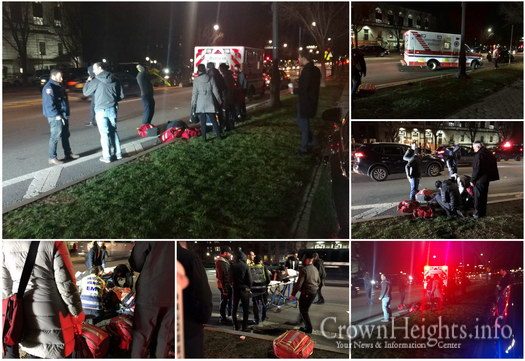 Last night, Crown Heights Hatzalah was caught on camera as it spread its chesed beyond the Jewish community. A non Jewish man, struck by a car on Eastern Parkway, was treated for his injuries and transported to the hospital with the speed and care iconic of Hatzalah.
by CrownHeights.info
The incident occurred just minutes after 9:00pm on Eastern Parkway between New York and Brooklyn Ave, when a non Jewish man was struck by a car driving at speed on the main road. The man was hurled into the air, before impacting hard into the ground.
Hatzalah and 911 were called, with Hatzalah arriving in under three minutes, a witness recalled.
The man was treated by Hatzalah and transported to the hospital, all before a 911 ambulance arrived.
A witness to the incident called it a big Kiddush Hashem, pointing out that there was a crowd of non Jewish people who were watching the events unfold.