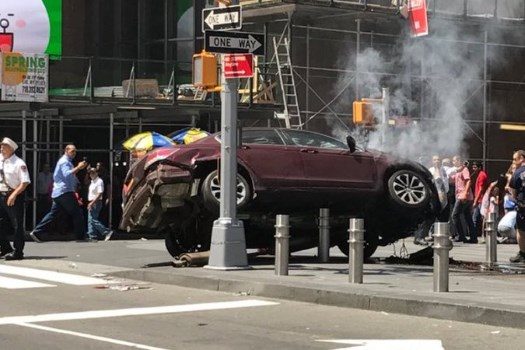 by CrownHeights.info staff:
A car slammed onto a busy sidewalk in Times Square about an hour ago, killing at least one person and injuring 22 others. Police say the incident is not terror related.
The incident occurred at the intersection of Broadway and West 45th Street at around noon today, Thursday.
At least one person is confirmed dead, with another 22 injured in various conditions.
The driver initially tried to flee the scene, but was subsequently taken into custody by the NYPD. He was identified as 26-year-old Richard Rohas of the Bronx.
According to police, the driver has two prior DWIs, and is believed to have been driving under the influence at the time of the crash.
The confirmed fatality is an 18-year-old girl. Her 13-year-old sister is among those injured.
The following video contains graphic images. Please view at your own discretion: