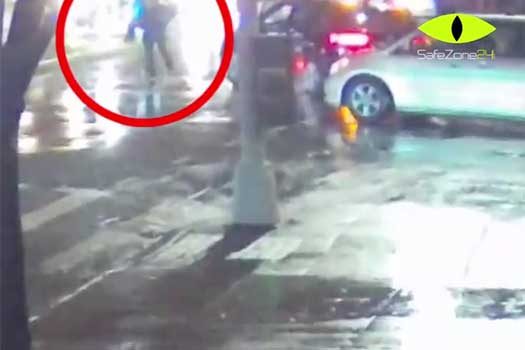 Tuesday was a bad day for children on the streets of Crown Heights. The day began with a 13-year-old Schneur Boaron being struck by a car on Kingston Avenue, then yet another young boy getting hit by a car on Brooklyn Avenue later on that same day.
The second incident occurred in the intersection of Brooklyn Avenue and Empire Boulevard, the victim a young Jewish boy, was riding a scooter across the street, when a car attempted to make a right turn onto Empire and struck the boy.
Thankfully, the child was wearing a helmet and though he was bruised up, he did not sustain any serious injuries. The boy was treated by Hatzalah and transported to an area hospital and was released back home a short while later.
Authorities noted that the weather conditions at the time were extremely poor and the driver would have had a tough time seeing any pedestrians.
Surveillance video of the crash [see below] revealed that following the incident the driver acted in a very careless and irresponsible manner – lifting the child up and walking around with him in his arms – "this could have exacerbated a spinal injury or worse" said a source in the medical field.
"These incidents that both happened on the same day should serve as a warning to pedestrians, and even more so to drivers about the dangers the roads pose" said a witness.
The public is asked to continue saying Tehillim for Schneur Zalman Ovadia ben Rina Miriam, who is still in critical condition and in intensive care.