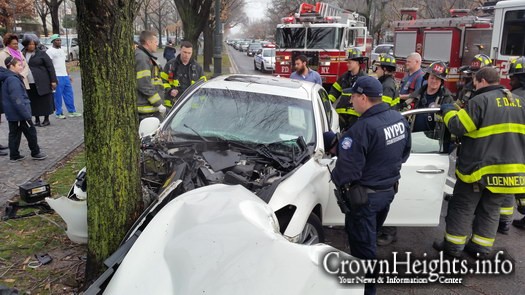 Driver Crashes into Tree after Losing Control
A violent collision sent one driver to an area hospital after he swiped one car, lost control and crashed head on into a tree.
The crash occurred at around 2:15pm on Eastern Parkway near Kingston Avenue. The driver of a white Infiniti M37x sideswiped a white Toyota Highlander SUV, lost control and drove up onto the pedestrian 'island' and came to an abrupt halt after crashing into a tree.
The driver of the Infiniti sustained injuries to his head and mouth after the airbags did not deploy in his car. It was unclear if there were any injuries in the other vehicle.
"If not for that tree who knows how much worse this could have been" a bystander told CrownHeights.info. Another said "the crash happened so far down the block, he was really speeding."
The driver was transported to Kings County Hospital in stable condition.