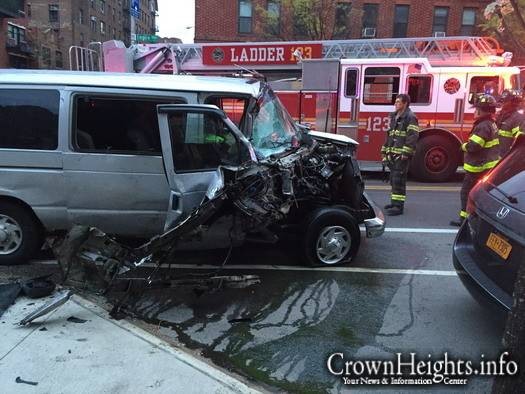 File photo: The scene of a previous dollar van crash that occurred in April.
A dollar van driver plowed into a pedestrian and pinned another between two cars in Crown Heights last week before trying to flee the crash scene on foot, police and prosecutors said.
Angeal Minott, 20, of Jersey City was driving a 1997 Ford E350 van at Utica Avenue and Union Street at 6:30 p.m. last Monday when nearby police officers saw her drive "at a high rate of speed with tires screeching," and crash into a woman crossing Utica Avenue, according to court documents.
Minott then plowed into two parked cars, which in turn crushed the knee of a man standing between them, according to the court documents.
After the crash, Minott got out of the van and attempted to flee the scene on foot before officers arrested her, police said.
She claimed afterwards that she had blacked out behind the wheel because she is pregnant, law enforcement sources said.
Minott had a valid New Jersey driver's license at the time of the crash, officials said, but was not licensed to operate a "dollar van" or commuter van — privately-owned vehicles that typically offer affordable transportation in neighborhoods underserved by mass transit — according to the Taxi and Limousine Commission.
The agency said Minott has applied for a license in January, but was denied because she did not meet requirements.
Both of the pedestrians involved in the crash were taken to Kings County Hospital with non-life threatening injuries, officials said. There were no passengers in the van driven by Minott at the time of the crash, police said.
Minott was arraigned last Tuesday on charges of leaving the scene of an accident without calling authorities, reckless endangerment and reckless driving, failing to yield to a pedestrian in a crosswalk, excessive speed, and obstructing a governmental investigation, court documents show.
She was released without bail and is due back in court on Aug. 11.
The crash happened one block south of the most dangerous intersection for pedestrians in Brooklyn, Utica Avenue and Eastern Parkway, according to a recent report by the Department of Transportation.