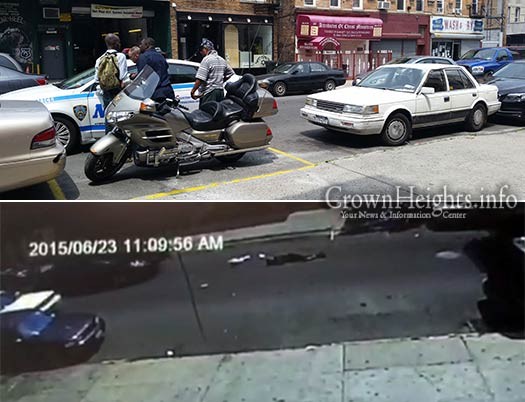 A 96-year-old man was critically injured after being struck by a tractor trailer, then by a car which dragged him some 50 feet on Albany Avenue. Both the car and truck then fled the scene, leaving the man barely clinging to life.
The incident occurred on Albany Avenue between Lincoln Place and Eastern Parkway at around 11:10am, when the 96-year-old man apparently went to move his car ahead of alternate side parking.
Eyewitnesses said that the man double parked his car across from his house on Albany and attempted to get out of his car when he was struck by the tractor trailer – which likely did not see him. A second car then struck the man, who was lying motionless on the street, and dragged him further down the block.
The driver of the car, who witnesses said was a Hispanic woman, then got out of her red Toyota sedan and took a look at the injured man, then got back in her car and fled the scene as well.
Witnesses called 911 and Hatzalah, who made an amazing Kiddush Hashem by being from the first to arrive on scene and treat the critically injured man.
He was rushed to Kings County Hospital with injuries to his head and legs, including lacerations and fractures.
A short while later the NYPD's Accident Investigation Squad was called to reconstruct the accident scene.
The victim is listed in critical condition.
Update – 4:00pm: After frenzied attempts by surgeons to save his life, the man died from his injuries at Kings County Hospital. The victim was identified as 96-year-old Milwood Hughes.
WARNING: THE VIDEO BELOW IS EXTREMELY GRAPHIC AND DISTURBING. VIEWER DISCRETION IS STRONGLY ADVISED.