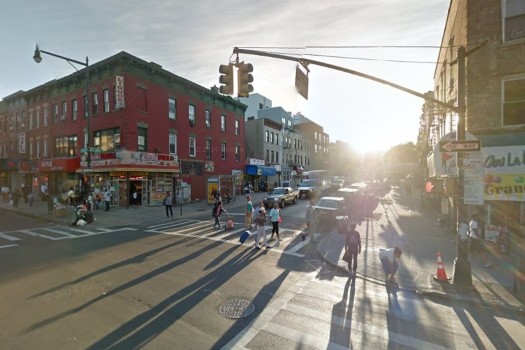 Corner of S. Johns and Nostrand, where the crash occurred.
At around 4:00am this morning, Tuesday, a chaotic car crash occurred near the corner of S. Johns Place and Nostrand Ave. in Crown Heights. The male driver and his female passenger, both 20 years old, were transported to the hospital with serious injuries. The female died from her wounds shortly thereafter.
From Pix 11 News:
The driver appeared to hit several parked cars before coming to rest, according to footage from the scene. The victims' white sedan slammed head first into a parked car
Officers arrived at the scene to find a 20-year-old woman, who was traveling in the passenger seat, unconscious and unresponsive in the street, police said. She had been ejected from the car's rear window, and taken to a hospital where she was pronounced dead, police said.
The driver was taken to a hospital and is listed in stable condition, police said.
No arrests have been made and an investigation is ongoing. The cause of the crash has not been determined.