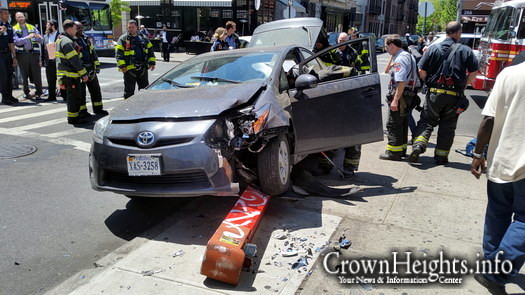 Two vehicles collided today in the intersection of Kingston Ave. and Lincoln Place, in front of the Basil restaurant. The force of the collision caused one vehicle to careen onto the sidewalk and demolish an emergency call box. Thankfully, no pedestrians were injured.
The incident occurred at around 1:00pm. A Gray Toyota was traveling eastbound on Lincoln Pl. when it was t-boned by a silver Dodge traveling up Kingston Ave. as it crossed the intersection.
Bystanders called Hatzalah, who arrived immediately and treated both drivers – despite the fact that neither was Jewish. EMS paramedics later took over from the volunteers.
Both drivers refused to be transported to the hospital for further treatment.