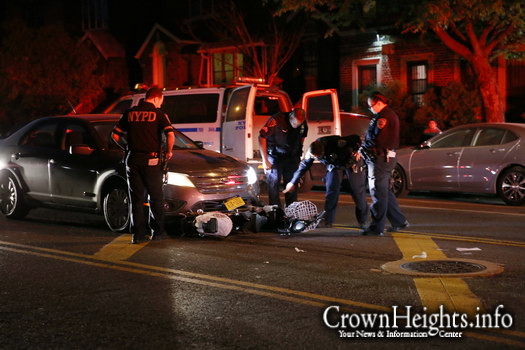 Delivery Worker Injured in Collision with Police Car
A delivery worker for a local food establishment was injured Wednesday evening after being struck by an unmarked NYPD police car. He was thrown from his electric bike after witnesses said that he weaved out from between moving cars.
The collision occurred at around 8:30pm on Empire Boulevard near Albany Avenue on the 'zebra' lines that divides the roadway. An unmarked police car that was traveling on the 'zebra' lines struck the cyclist after he darted out from between moving cars.
Police sources said that the officers in the unmarked cruiser were in the middle of 'police business' – likely related to the nights Lag BaOmer celebrations – but were not responding to an emergency.
The biker was knocked off his bike and suffered some scrapes and bruises but was thankfully not seriously hurt. He was treated on scene by FDNY EMT's.
The officers in the cruiser did not suffer any injuries.