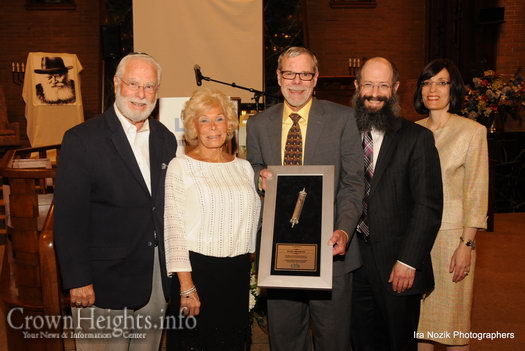 "LYA provides a sense of community while instilling self-respect and respect for others", remarked Carol Engelson, one of the honorees at the recent Lubavitcher Yeshiva Academy (LYA) Scholarship Reception "Generations of Goodness" in Longmeadow, MA.
Carol Engelson is a board member and former president of the LYA Board of Directors, Treasurer of the Jewish Federation of Western MA and is a faculty member of the science department at Hebrew High School of New England in W. Hartford, CT.  She spoke of LYA's impact on the community and the reason for her continued involvement.  Under Carol's leadership LYA became a NEASC accredited school and a Leader in Me School. Currently LYA is experiencing increased enrollment and expansion of programming.
Engelson's two children, Abraham Engelson and Elke Sudin, are LYA graduates. "Not only did my children receive a stellar secular and Judaic education, but just as important, their Jewish souls were nurtured." Abraham, a CPA and his wife Shoshana and son live in Queens, NY.  Elke and her husband Saul live in Brooklyn where Elke is a multi-disciplinary artist and an iPad artist.
LYA honored the Grant Family and Sons of Israel Synagogue/Cemetery. Bernyce Grant and Randall Bernstein accepted the award and Randall spoke about the Grant family and their commitment to Jewish causes including LYA and Jewish education.  "We would not be here without the leadership and planning of Bernie and Gerry's dedication to our community.  They were very dedicated to the cemetery and they loved their faith, family, traditions and community."
"I am quite confident that Uncle Bernie and Uncle Sonny (Gerald) would be very proud and content in knowing that Sons of Israel Cemetery is able to assist in strengthening our local Jewish community.  LYA has proven to be a highly valuable asset and important resource to the community.  I am proud to be associated with them."
The attendees of the Generations of Goodness Scholarship Reception heard about the honorees and their commitment to LYA as well as the commitment of LYA leadership to the community.
"Rabbi Edelman brought to LYA generations of leaders", commented Engelson. "All of these generations have dedicated themselves to nurturing Jewish souls in everyone they meet, especially the children at LYA.  The wonderful Judaic and secular staff are giving our children what they need if we want future generations to truly have the joyous gifts that Jewish life can bring."
Susan Goldman, president of the Jewish Federation of Western MA, introduced Carol Engelson and praised her for her commitment to the community.  "Carol continues to be an active leader and member of the community which is great evidence of her life-long commitment to what is important."
Hyman Rabonovitz, family friend of the Grants, spoke of their commitment to Jewish values.  "The Grant family was always there to help, they are very family and community oriented and always did what needed to be done with a smile."
Attending the dinner at Congregation B'nai Torah were many community members, LYA supporters, board members, parents, LYA staff members as well as family and friends of the honorees.  State Senator Eric Lesser was on hand with special citations for the honorees.
A new promotional video was premiered at the LYA Scholarship Dinner. The video captured the new 2016 technology initiatives.   The film highlights students, parents and alumni sharing their thoughts of the impact LYA has on them.  The video was produced by Grey Matter Films.
For more information about LYA, visit www.lya.org.