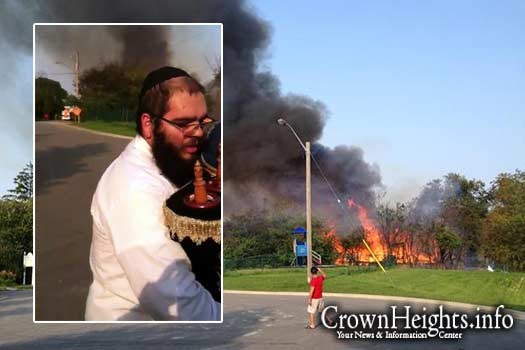 A massive blaze broke out in a Thornhill home that was under construction, sending plumes of thick black smoke that was visible for miles. The fire was in close proximity to the Shmuel Zahavy Cheder Chabad, which was not damaged in the blaze.
The fire broke out at around 6:30pm inside 126 Thornridge Drive, just down the block from the Chabad Cheder, and was quickly designated a 3-alarm-fire with some 24 fire fighters battling the blaze. "Fire Chief Bentley tells me this three-alarm fire on Thornridge Dr. was so strong it melted fascia across the street" a reporter for the Toronto Sun tweeted.
Local media reported that the home was under construction and is not clear if there was anyone at the time. There were no reported injuries in the blaze.
Videos of one of the Cheder teachers removing the Sifrei Torah's from the Shul went viral on social media and messaging apps prompting a scare that it was the Cheder that went up in flames.
Attempts to reach the school's principal Rabbi Baruch Zaltzman for comment were unsuccessful.
@680NEWS new house development in Thornhill on fire. Opposite trees now lit. Fire crew on scene pic.twitter.com/sULp4PvjRY

— MrDisco (@MrDisco3) July 12, 2015
Fire Chief Bentley tells me this three-alarm fire on Thornridge Dr. was so strong it melted fascia across the street. pic.twitter.com/kik2sWMfkR

— Nick Westoll (@NWestoll) July 13, 2015