The New York Times
Click here for a news cast of the event
The roof of a 150-year-old synagogue in Lower Manhattan once renowned as the Cantors' Carnegie Hall, where the choir had included Red Buttons and Eddie Cantor, collapsed yesterday, forcing evacuations from four adjacent residential buildings and throwing into doubt the future of one of New York's historic religious structures.
The collapse at the First Roumanian-American Congregation, at 89-93 Rivington Street, began shortly before 4 p.m. in a cascade of timbers, tar paper and debris, after beams supporting the roof came loose, the authorities said late yesterday. There were no injuries. Water damage was detected on the roof several weeks earlier, and congregants were told to stay away until planned repairs were performed.
More pictures in Extended Article!

"It sounded like an explosion, then a loud crash," said Christina Gorin, 36, a rock musician. She was playing her guitar in her apartment at 138 Orchard Street, one of the buildings later evacuated, when the synagogue roof came down, she said. When she looked out the window, said Ms. Gorin, "It was just a cloud of dust."
By early last night, with more than 100 firefighters and other emergency workers on the scene, it was unclear whether the building could be salvaged and whether the congregation had sufficient insurance to cover the damage.
One of a handful of historic churches and synagogues that have survived decades of decline and redevelopment in Lower Manhattan, it has not been designated as a city landmark and could be demolished if repairs prove impractical. "There is nothing under city law that would preclude it from being demolished, particularly if there are safety reasons," said Ilyse Fink, a spokeswoman for the City Department of Buildings.
About 100 people were evacuated from the adjacent buildings, because of the risk that further deterioration of the synagogue would threaten neighboring structures' walls or foundations, Ms. Fink said. Officials of the American Red Cross of Greater New York said they would find hotel rooms for evacuees who needed them, although it appeared that most – like Ms. Gorin, who planned to bunk with friends in Brooklyn – would find temporary quarters on their own.
Rabbi Shmuel Spiegel, who leads the synagogue's congregation of about 100, said late yesterday that one of his first fears was for its Torahs and holy books, which he had been unable to examine because emergency workers barred entrance. But he said the Torahs and books had been stored beneath a section of the roof that appeared to be intact.
The cause of the collapse remained unknown last night, and Ms. Fink said there was no record of recent structural building violations at the synagogue. But Rabbi Spiegel said that water damage became apparent in the building's roof about seven weeks ago, and that he retained an engineer to assess the risk after the congregation's insurance company had refused to honor a claim for repairs.
The engineer concluded that "it would be safest to keep it closed for a while," Rabbi Spiegel said yesterday. As a result, he said, services have been held in his mother's apartment, not far away on Grand Street, and the synagogue was closed.
The synagogue had flourished as a center of religious and cultural life during the waves of Jewish immigration to Lower Manhattan in the late 19th century, often serving more than 400 congregants at a time. Through the first half of the 20th century, it became a magnet for aspiring singers and cantors, who dreamed of singing before one of the Lower East Side's most prominent congregations. "It is one of the last remnants of our community," Rabbi Spiegel said yesterday.
Like other Jewish congregations in the area – including the Eldridge Street Synagogue, a city landmark – the First Roumanian-American Congregation has suffered dwindling membership and financial support in recent decades. Rabbi Jacob Spiegel, the current rabbi's father, was known to scour the sidewalks for men to fill a 10-worshiper quorum required for thrice-daily services, asking passers-by: "Are you Jewish? Won't you come in?"
The red-brick facade and Romanesque arches on the front of the synagogue appeared untouched by yesterday's collapse, and there was no sign of fire. The structural damage was clearly severe, however. The roof of the building, a single-story structure that rises to the roofline of neighboring six-story tenement buildings, had fallen to the floor. At least six heavy timber triangular trusses that had supported the roof dangled in the wreckage.
Still, Rabbi Spiegel remained optimistic that the building could be saved. "I believe God will help," he said.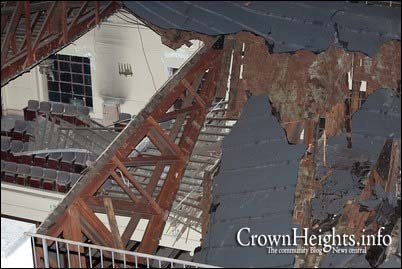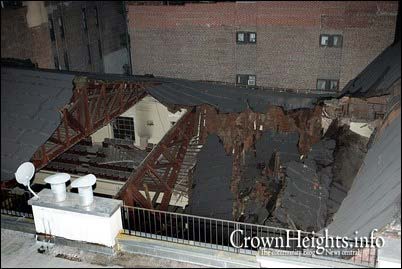 You can see the seats lined up inside.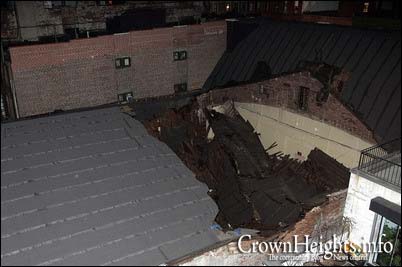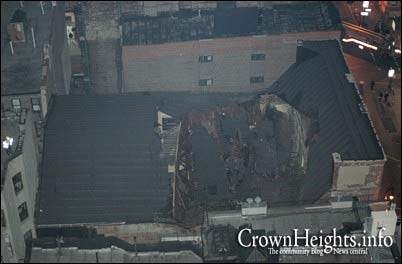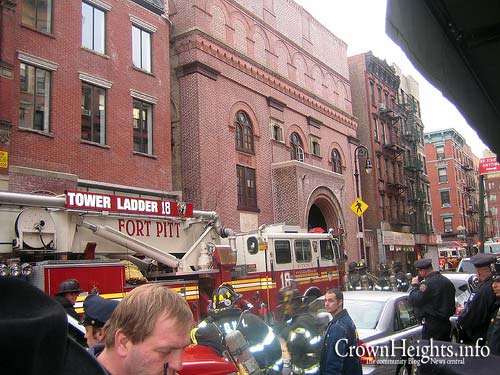 As you can see the outside of the shul is intact.