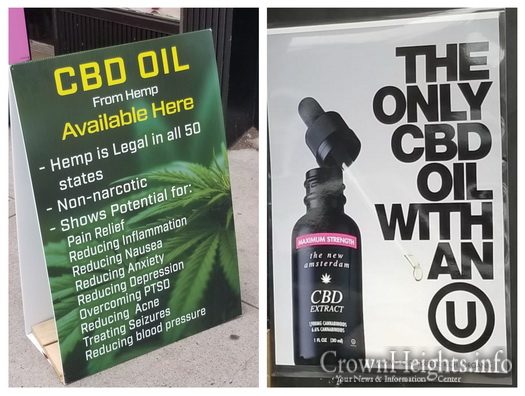 by CrownHeights.info
The New Amsterdam Cannibis shop in Oregon is as you might expect from a Marijuana shop. Glass jars line the walls with the marijuana buds peaking around labels naming strains and concentrations. Edibles and oils also lay out, claiming to help calm the mind and relax the body.
Although the Cannabis section of the shop may not be making its way to Crown Heights, its CBD oils will. The new shop open above Primo Hatters on Kingston Ave, with the New Amsterdam CBD store only selling CBD oil kosher certified by the OU.
CBD Oil is an extract taken from the Hemp plant, but is noted as having very little THC, the molecule that makes a person high. Instead, CBD Oil is praised to be a relaxing supplement, capable to treating many stress and anxiety related issues.
The New Amsterdam dispensary was first started in 2014, when Yisroel Shankman approached the industry looking for the best in Cannabis. In an interview with CrownHeights.info, he spoke about his beginnings as he traveled to Oregon to find the purest and natural strains to create his product. He pointed to CBD oils as a positive, healthy, and natural outlet.
Despite its many positive and healthy traits, CBD oils are not yet FDA approved, and although sales of the oils are not illegal, it only recently got the green light for sale in New York City.
In January of 2019, The New Amsterdam CBD Oil became the first to be certified Kosher by the OU Kashrus Organization.
The New Amsterdam CBD Oils are scheduled to Debut at this years KosherFest planned for this month in Secaucus, New Jersey.