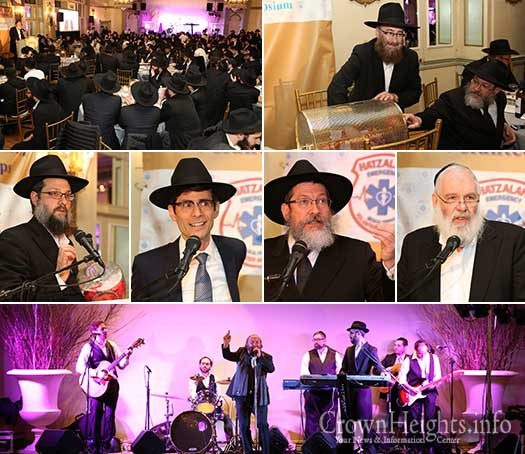 Hatzalah Hosts Maimonides for Annual Melava Malka and Health Symposium
Hundreds of men and women turned out this Motzai Shabbos for Crown Heights Hatzalah's annual Melava Malka, health symposium and raffle for $18,000.
Opening the evening was Rabbi Levi Garelik who began with an appropriate Dvar Torah about the role of doctors and medicine.
He then introduced the evenings featured speaker, Dr. John (Yaakov) Houten, the director of spinal neurosurgery and neurotrauma at Maimonides. Dr. Houten began by letting the crowd know that he was a graduate of Yeshivas Ohr Elchonon in Los Angeles, before beginning an interesting lecture on back pain, its causes, and when back pain is cause enough for concern to seek medial attention. His speech was followed by a question and answer session.
The Melava Malka featured a delicious spread of dairy and parev food catered by Benny Turk of Turk Cateres, a wine bar by Yudi and Mendy Eber of Eber's Wines and Liquors and a sushi bar by Sushi Spot. Live music by Fitche Ben Shimon and a special performance by Yehudah Green rounded off the evening.
Dr. Eli Rosen, a local physician and coordinator in Crown Heights Hatzalah, was last to speak and he thanked the wives and families of the Hatzalah volunteers for lending their husbands and fathers to Hatzalahs life saving cause. He also took a moment and called the roll of the membership of Hatzlaha along with the amount of years each has dedicated to the organization.
The highlight of the night was the raffle drawing for the grand prize of $18,000. The lucky winner was Yossi Blachman. Also raffled off was an exclusive collection of Herzog's California Wines, won by Yehuda and Sholom Holtzberg.
All attendees received a free snow brush and blanket as a door prize.