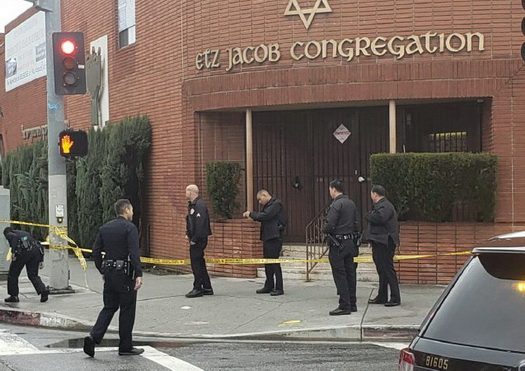 Los Angeles prosecutors say they won't charge a synagogue security guard accused of shooting a person who was recording video of the building.
The Los Angeles Times reports the announcement came as the woman who was shot filed a civil lawsuit against the guard and his employer.
Edduin Zelayagrunfeld, 44, was arrested on suspicion of assault with a deadly weapon on February 14, after the shooting outside the Etz Jacob Congregation / Ohel Chana High School on Beverly Boulevard.
In a declination memorandum, Deputy Dist. Atty. John Harlan wrote that prosecutors ultimately would not be able to disprove Zelayagrunfeld was acting in self-defense.
The victim was a transgendered woman named Zhoie Perez, 45. She is a YouTube personality and self-described First Amendment "auditor" who pushes the bounds of her rights in public spaces and posts videos online.
Her lawsuit alleges assault and discrimination. The guard and the synagogue didn't immediately comment on the lawsuit.
Perez uploaded almost an hour of video to her YouTube channel, where she is better known as "Furry Potato," in which she is seen observing Frum girls on the street, while wondering aloud if it's a "Jewish tradition" that they are dressed a certain way. She circles the school building while filming and making comments. Furry Potato was then confronted by a security guard, who repeatedly asks her to stay away from the building.
Furry Potato then approached a security guard standing behind a fence. The guard asked her to leave the area while constantly moving his hand toward his firearm, even though she is standing on a public sidewalk.
The guard drew a firearm and pointed it low, holding it steady while threatening to shoot Furry Potato. The gaurd then appeared to lower the gun for a moment, but quickly raised it back up. At that moment the gun went off, and Furry Potato began shouting "(Expletive) shot me. (Expletive) shot me in the leg!"
Later in the video, the security guard can be heard saying he fired a "warning shot" and it was aimed "at the ground".
Furry Potato suffered what she described as a "deep graze" and was treated and released from a hospital within hours of the clash. The bullet that struck Perez ricocheted off the sidewalk, according to the district attorney's memo.
Before the shooting, Zelayagrunfeld had asked school staff to move students to a safe location, triggering a lockdown, according to the memo filed by the district attorney's office. Taken together with recent surges in anti-Semitic hate crimes and the mass shooting at the Tree of Life synagogue in Pittsburgh roughly four months earlier, prosecutors believed the guard's "perception of Perez's behavior as dangerous was reasonable."
"Perez went to a Jewish school, and place of worship, dressed in all black and with a backpack secured to her body by a harness," the document read. "As Zelaya told detectives, Perez's backpack could have contained a bomb, and her attire could have concealed a firearm or other deadly weapon."
Read More at the Los Angeles Times