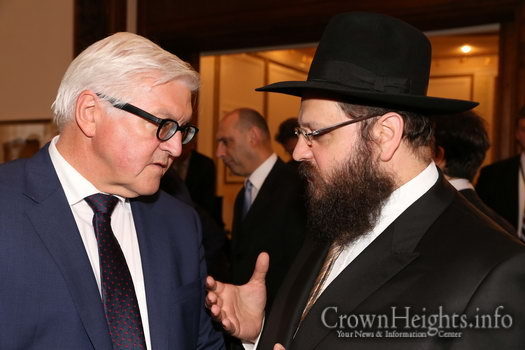 Rabbi Yehuda Teichtel with German Foreign Minister, Dr. Frank Walter Steinmeier
from the Associated Press:
Rabbi Yehuda Teichtal doesn't get much sleep these days, but says it's well worth it. The community rabbi and head of the Jewish outreach group Chabad in Berlin has been campaigning relentlessly to turn his dream of creating a Jewish campus in Germany into a reality.
For years, he's lobbied the German authorities, raised millions of euros (dollars) in funds and bought a 3,000 square meter (32,000 square feet) plot of land next to Chabad's synagogue in the German capital's Wilmersdorf district.
More than just a new facility, Teichtal sees the center as a step toward Chabad's goal of re-establishing a vibrant Jewish community in the former Nazi capital, in part by welcoming and integrating Jewish immigrants from the former Soviet Union and encouraging interactions with non-Jews.