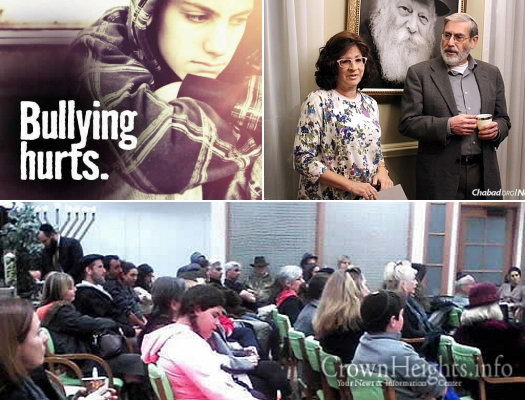 by Karen Schwartz – Chabad.org
Who hasn't experienced bullying in one form or another—as a kid on the playground, an adult at work and even among family, right at home? With a national spotlight focused on bullying—mostly in school environments but in other places as well—events at Chabad centers around the country have given people of all ages some tools to address the issue in their lives.
Teens and adults gathered last week at Chabad-Lubavitch of Newbury Park, about 40 miles west of Los Angeles in Southern California, to focus on a common problem: how to deal with difficult people.
The evening, co-sponsored by Chabad of Thousand Oaks, Calif., included a presentation by Israel "Izzy" Kalman, a Nationally Certified School Psychologist (NCSP) and director of "Bullies to Buddies," a system for dealing with a problem that has become all too common in public and private circles. He flew in from Israel, where he lives, to present the program at a number of Chabad centers over the course of six weeks.
In short, Kalman teaches people to reframe confrontational situations as opportunities for self-improvement. "There are concepts that are accepted by almost all schools of philosophy or religion; it is universal wisdom," he explains. "We need to treat people like friends even when they treat us like enemies. It sounds like a recipe for losing, but I explain and demonstrate how it really creates a 'win/win.' "
The talk centered on the idea that people generally want to get along, and that enabling someone else to see another point of view or reason for a particular behavior can help make that happen. Scenarios Kalman tackled included handling a humiliating rumor, being insulted or mocked, being harangued for wearing second-hand clothing and being nagged by a critical spouse.
Shula Bryski, who co-directs Chabad of Thousand Oaks with her husband, Rabbi Chaim Bryski, adds: "I think everyone on some level is dealing with difficult people in their lives."
She talked about the emphasis in Yiddishkeit on shalom, on peace. "Jews value peace, and G‑d aches for peace—that his children get along with one another," she says.
During the presentation, volunteers acted out real-life scenarios, with Kalman giving the audience new perspectives and ways to respond to various situations. For example, instead of rushing to defend oneself, Kalman's approach promotes stopping and trying to see things from the other person's point of view.
Stacy Fernandez of Thousand Oaks believes this leads to diffusing a situation, and not escalating it. "I was able to see how this might lead to an actual friendship, or at least prevent future confrontations with this person," she says.
Fernandez, who has a degree in psychology, says the parts of Kalman's talk on the topic of marriage—which can often involve bullying on different levels—especially resonated with her. "So often, we fail to show our partner the same caring and consideration that we would show a good friend or co-worker," she says. "I hope in the future, due to Mr. Kalman's talk, I will be more respectful and considerate, and less eager to be critical or confrontational."
Rabbi Schneur Schneerson, who co-directs Chabad of Newbury Park with his wife, Tzippy, says he appreciated how Kalman's presentation brought people from the community up to share their experiences, and then offered ways to make those situations different or easier. "I think it was not only educational, but also practical," he says of the presentation. "I learned a lot. It definitely grew my understanding of how to deal with people."
'Changing the Tone of a Conversation'
Marcus Cohen, an attorney who lives in Newbury Park, discovered the synagogue a few years ago when he moved to the area from Washington, D.C., and has been going there regularly for Shabbat services ever since. He decided to attend the program after getting an email from the rabbi, and says he appreciated a different take on interpersonal relationships.
"What I really enjoyed was the role-playing," he says. "It was interactive and an opportunity to have the techniques displayed. In doing so, I think it reinforced the points much more effectively than a traditional lecture."
Seeing the same situation played out two ways—one in which the speaker was aggressive and the other where the speaker took a sympathetic approach—impressed Cohen as he noticed a distinct change in tone.
One of the examples was a role-playing situation in which a "wife" complained to her "husband" that he didn't like having people over. First, the husband became defensive and created conflict, turning a discussion into a yelling match. In the second scenario, the husband agreed with his wife that he wasn't as social and didn't have the same predilection for hosting.
"That really changed the tone of the conversation," says Cohen of the demonstration. "Instead of it becoming combative, it turned into an actual conversation."
It's a lesson that could benefit children, too, as soon as they're able to understand it. "As social animals, we want other people to fit in, and often that's done in a very negative way," he offers. "If it's done in a positive way, where it's socially acceptable, the bullying can be turned on its head."
Cohen plans to share the lessons learned with his own children, ages 3, 7 and 9, on a case-by-case basis as situations arise. "When they identify conflicts, this will be a way to discuss other ways of dealing with them than just the norm," he says. "It's having the other person see your point of view, which is a very different way of looking at things."
Kalman recently offered training at Chabad Hebrew Academy in Margate, Fla., founded by Rabbi Yossie Denburg, its dean, and his wife, Rivka Denburg, head of school, for both parents and children. And earlier this week, he brought the program to the Women's Circle of Crown Heights in Brooklyn, N.Y., run by Chanel Lipskier.
"Whether or not what seems like bullying is a person's conscious intention—and regardless of whether or not they are even correct in what they're saying—you can change the way you feel and respond to any situation," affirms Kalman. "The hostility can disappear, and both parties can learn to respect each other."