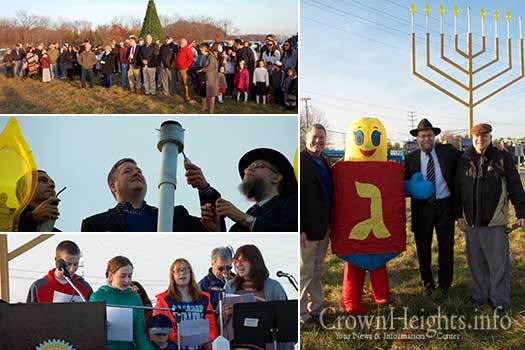 For its 14th consecutive year, New Jerseys largest Chanukah Menorah was lit in Monroe Township by Shliach Rabbi Eliezer Zaklikovsky with hundreds in attendance.
The Menorah was lit by Rep. Dan Benson, D-14th District, and local business owner Tal Kalif. Benson, Councilman Michael Leibowitz of Monroe and Sen. Linda Greenstein, D-14th District, also shared holiday greetings with the crowd.
The first candle was lit in memory of Kalif's three-month-old son who recently died.
"This Menorah is the ultimate display of joy and unity," said Rabbi Eliezer Zaklikovsky, director of Chabad Jewish Center of Monroe, who is erecting the Menorah. "The holiday of Chanukah is a festival of a historic victory and celebration for all times, highlighted by the kindling of Menorahs each night of the holiday. Yet it also contains a universal message for people of all faiths — that ultimately, good will triumph over evil, freedom over oppression, and light over darkness."
The event included music, educational crafts and gifts for the children, Hanukkah cookies and fun for everyone. The Odessa Klezmer Band also was on hand for the celebration and the Chabad Hebrew School Choir sang "Oh Hanukkah" and "I Have A Little Dreidel." Cantor Zev Guttman of Philadelphia sang and led the prayers for blessing the candles on the first night of Hanukkah.