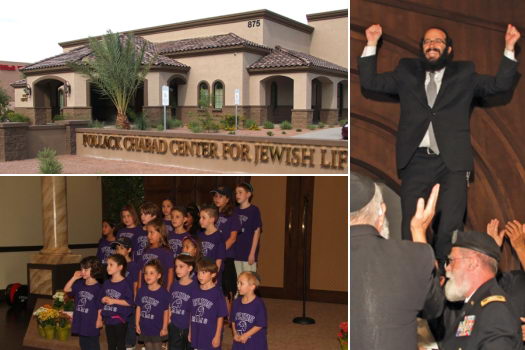 On a piece of land that stood vacant for about seven years after a groundbreaking ceremony, hundreds gathered Aug. 18 to dedicate the new Pollack Chabad Center for Jewish Life in Chandler, Arizona.
The 15,900-square-foot facility, which was put on hold for a few years due to the Great Recession, is the new home of Chabad of the East Valley, which was founded in 1997 by Rabbi Mendy and Shternie Deitsch. The building, at 875 N. McClintock Drive in Chandler, houses a synagogue – with a sanctuary that seats 450 and can also be used as a social hall for events such as weddings and bar/bat mitzvah celebrations – five classrooms, the Chandler Jewish Preschool, the Chabad Hebrew School, offices, a kosher kitchen and the Yoseph Yitzchak Lipskier Library, named in memory of Shternie Deitsch's father.
The celebration began with Michael Pollack, the lead contributor to the $3.5 million project, affixing a mezuzah to the building's main doorway and an outdoor ribbon-cutting ceremony with the Deitsches, Michael and Cheryl Pollack and Arizona Attorney General Tom Horne.
Then more than 600 people, which included many rabbis and other supporters from across the Valley, as well as local dignitaries, entered the building's main doors for a dedication ceremony. After a "Shehecheyanu" prayer and the blowing of a shofar by Rabbi Deitsch's brother Nechemia, who was visiting from Toronto, East Valley Jewish Day School students in matching purple shirts kicked off the indoor standing-room-only celebration with songs, including "Shalom Alecheim" and "Am Yisroel Chai." Speakers included Horne; Col. Jacob Goldstein, an Orthodox rabbi, Army chaplain and Rabbi Deitsch's uncle, who thanked fellow veterans and led a prayer for soldiers; Rabbi Zalman Levertov, director of Chabad of Arizona; Rabbi Moshe Kotlarsky, the vice chairman of the Central Organization for Jewish Education of Chabad-Lubavitch International; and Rabbi David Edelman, Rabbi Deitsch's grandfather, who is one of Chabad's first emissaries – he has run a Chabad center in Springfield, Mass., for more than 60 years.
The international Chabad-Lubavitch organization has about 4,000 centers around the world, including 17 in Arizona. Chabad's emissary program was started by Rabbi Menachem M. Schneerson, the Grand Lubavitcher Rebbe; his photograph was on display on the stage during the ceremony.
Rabbi Deitsch first met Pollack, a Valley developer who served as the chair of the building committee, about 12 years ago, a story Pollack shared in his remarks during the dedication ceremony. Deitsch visited Pollack in his office and Pollack asked him if he wanted to rent a space. "No, I want to build a congregation," Deitsch told him. "We are going to build a beautiful building and a congregation."
"I looked at him and said, 'What's this 'we'? What do you mean 'we'?' " Pollack said. "Well, a couple of challahs later, a l'chaim or two, and next thing I knew, we were making plans."
The 2 1/2 acres of land at McClintock and Ray Road in Chandler were purchased in 2001 and a groundbreaking ceremony was held on Sept. 18, 2005, seven years and 11 months to the date before the dedication. Then came the recession and plans were put on hold until September 2012, when construction began.
"It's been an incredible journey with many ups and downs," Rabbi Deitsch said during the ceremony, "humorous at times, frustrating at others."
When the Deitsches started Chabad of the East Valley in 1997, they had a 3-month-old daughter and ran the synagogue and Hebrew school out of their home. In 2003, the Chabad center moved into a 1,500-square-foot storefront and held programs at multiple East Valley venues, renting classrooms at the East Valley JCC for religious school and renting space at different facilities for holiday celebrations. Now "we don't have to juggle from place to place throughout the community to provide the services that are so vital to this community," Deitsch said. "We can do it standing under one roof."
Deitsch and his wife, who now have nine children, thanked and presented gifts to a long list of individuals, including architect Ilan Baldinger,  congregants and other supporters. They also thanked their mothers, who were both present, and paid tributes to their fathers.
The ceremony, emceed by longtime congregant Mark Breyer, concluded with welcoming four new Torahs to the ark, which was designed by Baldinger and donated by the Mazer family.
"You have made this community as strong as it is today," Deitsch told those present. "It is not very often that we have the opportunity to be a pioneer and build something for future generations. Today is one such chance."