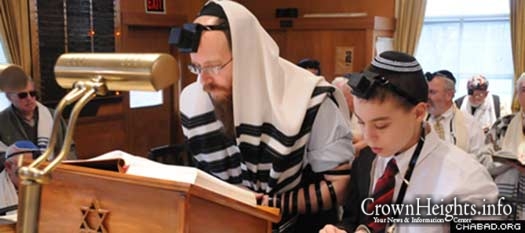 Rabbi Yosef Wolvovsky, Director of the Chabad Jewish Center, leads services at Knesseth Israel Synagogue. Standing beside him is Joshua Ellin, celebrating his Bar Mitzvah.
It was a celebration for the ages, and of many ages in Ellington, Conn., when a synagogue celebrated its 100th birthday with the special birthday of another–the Bar Mitzvah of a boy whose family has been part of the congregation for four generations.
The Knesseth Israel Synagogue proudly displays the year "5764″ – corresponding to the year 1913-1914, engraved in its cornerstone. As the synagogue commemorated its 100th birthday, local congregant Joshua Ellin carried on a family tradition that began many years before him, celebrating his Bar Mitzvah in the exact spot as his father and grandfather had before him. "It is very meaningful for us to see our son continuing the family tradition," said his mother, Tammie.
As Joshua was called to the Torah, donned Tefillin for the first time, congregants recalled his family's longstanding connection to the congregation. Mr. David Burstein, the reader of the Torah, recalled the Bar Mitzvah boy's great-grandfather reading the Torah in the very same place.
Chabad-Lubavitch Rabbi Yosef Wolvovsky, director of the Chabad Jewish Center in Glastonbury, Conn., who officiated at the event, spoke about the historic significance of the occasion: "This synagogue has a long and rich history," said Wolvovsky. "We intend to keep that legacy going, and have several events planned for this milestone year."