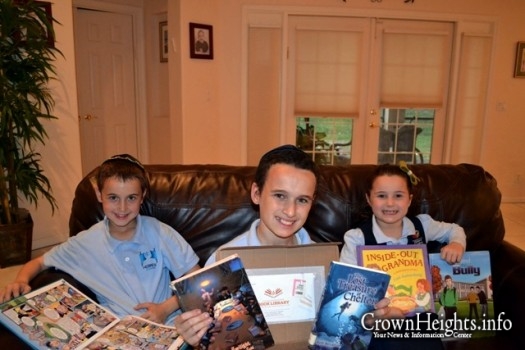 Tuesdays find hundreds of Yaldei Hashluchim eagerly checking and re-checking their mail slots, their excitement unbounded with the arrival of the unassuming white box that holds the keys to the big wide world of Jewish reading material.
The Yaldei HaShluchim Book Library, a project of Merkos Suite 302's MyShliach program in partnership with the Levi Yitzchak Library of Cedarhurst, New York, provides the opportunity for yaldei hashluchim to borrow books of their choosing, mailing them to the children's doors for a once-a-year minimal flat rate membership fee.  But as the number of members climbs, so does the need for additions to the 6000 book strong library, prompting MyShliach to launch its first book drive.
Be they picture books, chapter books, novels, biographies or anything in between, the Yaldei HaShluchim Book Library is seeking donations of new or gently used books to add to its collection, which you can be part of by clicking here. Every book donated will open the window to Jewish books a bit wider to children who would otherwise have a scant opportunity to take part in this crucial childhood element.
10 year old Chaya Mushka Vorst sums up what she likes best about the library: "The thing I love best about the Levi Yitzchak Library is that I can get Jewish books that are impossible to get here in Charlotte, North Carolina. I get very excited when the books arrive at my house! I really love to read and the books that we receive from the library are always good. I like the chapter books as well as the picture books. I hope that the library stays open for a very long time so that everyone has the chance to receive books and enjoy reading them."
"In the 15 months since we've begun partnering with the Levi Yitzchak Library, the 3000+ books we've shipped to 160 shluchim families have saved the shluchim thousands of dollars," relates MyShliach's director Rabbi Mendy Shanowitz.  "Every book added to the library's collection will brighten the often lonely afternoons, evenings and Shabbosim of the yaldei hashluchim.  This beautiful tribute l'iluy nishmas the young shliach Levi Yitzchak a"h Wolowik will expand and flourish thanks to book donations from people like you."
The Yaldei HaShluchim Book Library is a joint project of Merkos L'Inyonei Chinuch's Suite 302 and the Levi Yitzchak Library of Cedarhurst, New York, l'iluy nishmas Levi Yitzchak a"h ben Shneur Zalman sheyichye Wolowik.
Books can be dropped off or mailed to 788 Eastern Parkway Suite 302, Brooklyn, New York 11213.  Please label all packages, "Yaldei HaShluchim Book Library."  If you would like us to pick up your books, please fill out this form.
For more information, visit http://www.myshliach.com/bookdrive or call 718-467-4400 x 338.