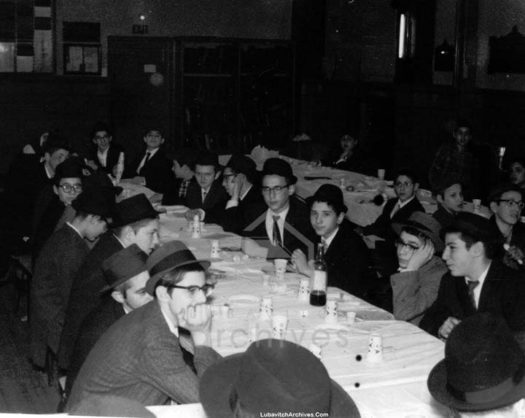 Courtesy of Lubavitch Archives, we present this photo of Bochurim in the lunchroom of Lubavitcher Yeshiva on Bedford and Dean, circa 1960. Can you identify anyone in the photo?
Left side of the table (front to back): Rabbis Nochem Kaplan, Shlomo Zarchi, Yankel Pinson, Yaakov Dovid Kotlarsky, Gershon Shusterman and ?
Right side of table (front to back): Uncle Eli Tenenbaum, Rabbi Leibel Schapiro, Abba Piekarsky, Nissan Meir Zeitz, Herschel Greenberg, Moshe Zaklikovfky, ?, ? and ?. Table on right: Mendel Keller, Yisroel Krasniansky and Shomol Tenenbaum.