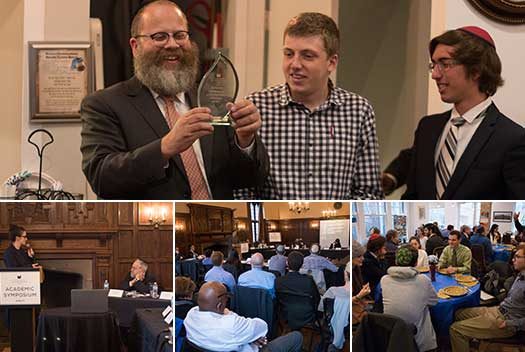 A Jewish student from the University of Sydney won the Jewish Academic Innovation Award this weekend during the Sinai Scholars Academic Symposium at the University of Chicago.
Benjamin Ezzes won the prestigious award for his passionate, well-researched paper on values in Jewish education. An English and Classical Hebrew major, studying for a bachelor's degree in Secondary Education, his paper drew on Jewish and academic sources as well as his own personal experiences.
Mr. Ezzes was chosen from 10 finalists from universities in the United States, Canada and Australia who submitted papers on topics from punk rock to animal rights, mysticism to higher math, and faith to jurisprudence. The papers combined modern academic rigor with traditional Jewish methods and approaches.
"All of the submissions this year were excellent, but Benjamin Ezzes' paper stood out," said Rabbi Dubi Rabinowitz, director of the Sinai Scholars Society. "Benjamin raises questions that we found challenging, and we're excited that he plans to put his ideas into practice as a Jewish educator."
Runner-up was Manuel Croitoru, a student from Colombia who is studying at Rice University, Texas. Mr. Croitoru wrote about the mystical significance of the minor festival, Purim Katan.
The finalists were drawn from the 2,300 participants in the the Sinai Scholars Society from 135 universities. After attending eight classes, a field trip, a Shabbat dinner and more, the participants completed a five-page paper. These papers formed the basis for the longer, in-depth research and essay papers submitted to the symposium.
The panel of judges included NYU professor of Hebrew and Judaic Studies, Dr. Lawrence Schiffman; Dean of the University of Chicago Divinity School, Dr. Laurie Zoloth; Dr. Malka Simkovich, Crown-Ryan chair of Jewish Studies at CTU, Chicago; Rabbi Shlomo Yaffe of the Institute of American & Talmudic Law; and Dr. Yohanan Petrovsky-Shtern, professor of Jewish Studies and History at Northwestern University.
Sinai Scholars Society, a joint project of Chabad on Campus International and the Rohr Jewish Learning Institute, was founded in 2006. Many of the participants in the program had no previous Jewish education, making their achievements even more impressive.
This year's symposium took place at the University of Chicago and was hosted by Rabbi Yossi and Baila Brackman Directors of the Rohr Chabad Center Serving the University of Chicago and Hyde Park.
"Sinai Scholars gives Jewish students from all backgrounds a chance to engage intellectually and find their own Jewish answers to the difficult questions that college life and independence can present," said Rabbi Yossy Gordon, executive vice president of Chabad on Campus International. "The connections forged between Sinai Scholars participants and the insights the program provides into their Jewish identity can last a lifetime."